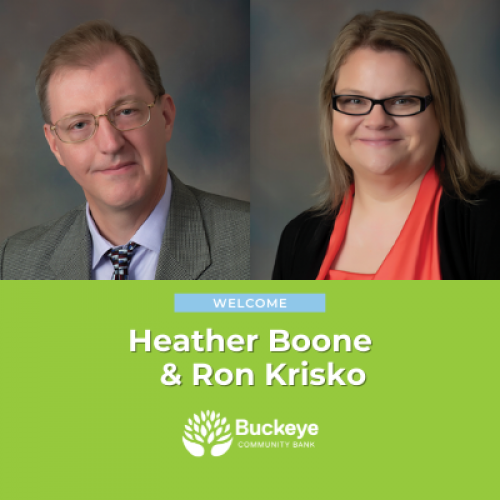 Oct 08, 2021
Buckeye Community Bank recently added two dynamic and highly detail-oriented professionals to aid its efforts as a community bank known for helping the local business community prosper.
Heather Boone has joined Buckeye as Executive Assistant, and Ronald Krisko has been named Information Technology Systems Specialist.
"We are glad to have Heather and Ron join Buckeye Community Bank," said Buckeye President and CEO Ben Norton. "Heather understands the challenges of achieving success by collaborating with not just those inside Buckeye but also engaging with those outside of Buckeye. Ron is passionate about leveraging technology in ways that involve and support others, which is essential in a world that is more connected every day. We are excited to have Heather and Ron on board to impact our clients and team members positively."
In her new role, Boone is responsible for a broad variety of administrative and leadership duties, assisting Buckeye President and CEO Norton and members of Buckeye's Board of Directors in their endeavors to lead the growing community bank effectively. Boone joins Buckeye with broad experience developed through a career in various aspects of banking, commercial lending administration, payroll and customer service management.
"The opportunity to join Buckeye Community Bank, which puts a focus on people first and encourages a more personal connection to clients compared to other banks, was attractive to me," said Boone. "In my short time here, I have found that the great things people say about Buckeye are true. The Buckeye team is very impressive."
Boone, who grew up in Oberlin, lives in Elyria with her husband, Russell, and the couple's three children. While much of her day is filled with numbers, rules and organizational complexity, she embraces her creative side by participating in crafting and art pursuits outside the office. 
As part of Buckeye's technology and operations team, Krisko works to ensure the stability and security of Buckeye's various networks and connections. In his position, he is responsible for a multitude of roles necessary for the efficient and productive completion of banking functions, projects, communications, data use and transactions around the clock.
"It is rewarding to be part of Buckeye where I can use my diverse computer skills and experience to help others and the organization succeed," said Krisko. "It's rewarding to be part of a team of friendly, engaged, and supportive colleagues."
Krisko brings expertise in information technology, project management, compliance, security, and computer and network administration. The Columbia Station resident is also treasurer and co-founder of the Aikey Foundation, which awards scholarships to local deserving students, and owner of Everything Brittle LLC, a specialty candy brittle company.