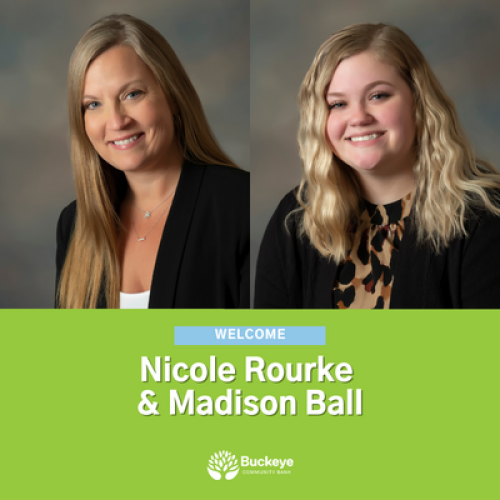 Jan 24, 2023
The Buckeye Community Bank team welcomed two new professionals recently to its frontline staff. Nicole Rourke has been appointed Retail Banking Officer, while Madison Ball joined Buckeye as a Customer Service Representative.
"We are delighted to welcome Madison and Nicole to Buckeye Community Bank. Their enthusiasm and engagement have demonstrated that they care about their clients," Buckeye President and CEO Ben Norton said. "Madison and Nicole are often the first members of the Buckeye team that the public and clients may interact with initially. We are pleased that their actions directly reflect Buckeye's values and commitment to helping local businesses in our community have access to the financial products and services they need to succeed."
In her new role, Rourke opens accounts, advises clients on Buckeye services and collaborates with other Buckeye team members to deliver high-quality customer service and resolve any emerging issues with accuracy and efficiency. A significant aspect of Ball's role is one-on-one contact with clients in order to complete account transactions, provide accurate and complete account information, and establish relationships and trust with clients through open and interactive communication.
Both of the new employees are making an impact and adding value to Buckeye's clients as they work to engage and respond to their needs.
Rourke, a Lorain County Community College graduate, has gained extensive experience in the banking sector, recruiting for manufacturing companies and management in retail environments. She is a resident of Grafton.
An Elyria resident, Ball has worked in retail and the food industry before joining the bank. She is a recent graduate of Elyria High School.