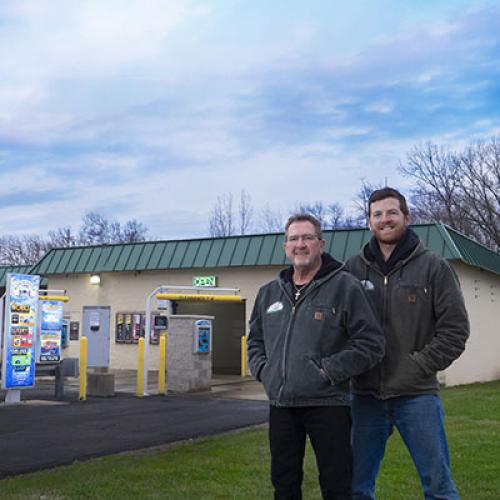 Feb 04, 2022
At a very young age, Robert Branz learned the importance of providing clients with a great experience and responding to their concerns. Branz, who co-owns North Ridge Laser Wash and Speedy Clean Express Laundromat, gained his entrepreneurial streak and business focus from his father, Frank, who owned a local rental equipment business for decades.
When Branz decided to chart his own path, he researched the landscape and saw an opportunity to start an auto wash. Branz and his brother, Charles, built the 42263 North Ridge Road facility in 1996 from the ground up and gained a competitive advantage by investing in innovative technology. Today, Branz businesses strive to stay true to their mission to "always serve the customer" in their daily operations.
"I was born into a family business. I remember always being around the business since I was 5," said Branz, who owns the auto wash today with his son, James. "We have always prided ourselves on having a clean environment, in which equipment works, and where our customers feel heard and cared for."
In the 25 years that Branz has owned North Ridge Laser, he has adapted to client needs and ensured that the site's equipment works properly. Recently, North Ridge Laser started offering prepaid wash memberships.
"Our businesses are still owner-operated, which is becoming increasingly scarce. We still believe in the old philosophy "owner on premises," but you don't see those signs around much anymore. We still enjoy our interactions with customers, checking on the equipment and ensuring the quality of our services is high to maintain our reputation. When we get compliments about our hard work, that makes our day," Branz said.
No matter how diligently you work, no matter how much you do, not every customer will be completely satisfied. That's why Branz and his partners make sure they hear concerns first, address and fix them, and ensure customers leave satisfied - and return.
As North Ridge Laser Wash was growing through quality customer experiences, Buckeye Community Bank launched. Branz appreciated Buckeye's focus on the area's business community. Supporting local is not a slogan to Branz as it works to benefits the greater good.
"The way Buckeye does business is the way I do business," Branz said. "Today, more and more businesses are owned by large corporations, so finding one that is local and focused here is difficult. It's nice to work with the same people at Buckeye every time. We have done a lot of business with Buckeye – they listen and always find a way to get the things we need done." 
"The Branz family has a history of entrepreneurship and building successful local companies in their blood," said Buckeye President and CEO Ben Norton. "Robert takes great pride in being closely involved and doing the hard work necessary for a positive customer experience. Our team is proud to work with him and his partners, as well as others, who share our commitment in creating a positive experience for those they serve."
Learn more about North Ridge Laser Wash here and Speedy Clean Express Laundromat here.