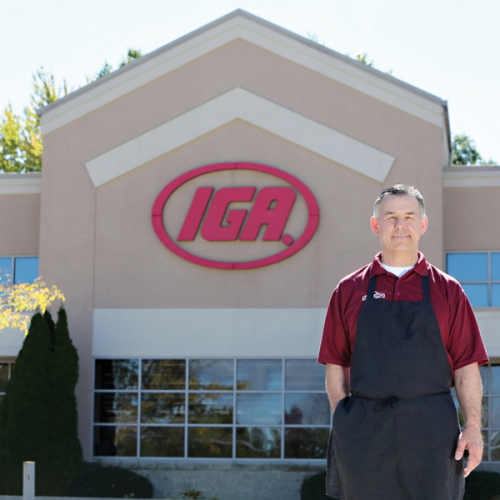 Oct 20, 2020
A sincere commitment to hard work and making an impact in the community has served Leo Braido, owner of Oberlin IGA, well throughout his career. He believes that good grocery stores will always be community hubs connecting friendly faces and quality service to our neighbors' well-being.
"I moved to Oberlin to make a living and make a difference and work hard every day to do just that," said Braido, who purchased the store in 2014 and relocated from Cambridge, Ohio. 
In the grocery industry, the global pandemic has meant a shift in some consumer behaviors, with many choosing to utilize large retailers' technology to order food online and pickup with little or no interaction. However, Oberlin IGA remains relevant in these trying times with their consistent focus.
"The interaction with the customer is at the center of this people-centric business and one of the things that I enjoy," Braido said. "The hard work is not just getting them here once. It's earning their trust by providing what they need, delivering what they expect and caring about them personally. Since taking over the store, we have worked to make sure shoppers know that we are always focused on meeting their needs and exceeding their expectations."
As a teenager, Braido started on what would become a life-long career in retail grocery, landing a job as a part-time service clerk. Securing the job came after his tenacity paid off visiting the hiring manager weekly. Upon his high school graduation, Braido worked to learn the business internally as he trained to be a meat cutter while pursuing a degree in business management at Wheeling Jesuit College. After earning his college degree, he entered the store management training program, learning everything from pricing to food safety that would serve him well. While rising through the company's corporate structure, Braido remained focused on his eventual goal to create his own company.
"I'm a believer in that your demise begins when you are satisfied. We are continuously focused forward, working on making a good store better next week, next month, next year," Braido said. "We have a great group of folks making sure that we treat everyone the same and treat them well." 
A hallmark of Oberlin IGA, according to Braido, beyond its excellent customer service, is a focus on fresh, local products and an unyielding commitment to quality. Even when other retailers sacrifice quality to cut costs, Braido said he remains steadfast to not deviate because of an implied promise to customers.
"We are blessed to have folks like Buckeye that enable me to do what I do best," said Braido, who joined Buckeye in 2019. "We appreciate working with Buckeye, especially Susan Grachanin and Sarah Smith, knowing they are there to help us out with anything that we might need. I'm proud to be a Buckeye Bank customer." 
"We are passionate about working with partners like Leo Braido and Oberlin IGA, who demonstrate their focus on enriching the community they serve with actions every day," said Buckeye President Ben Norton. "We at Buckeye Community Bank share a steadfast commitment to investing in our community's growth and to truly know the people we serve."
Learn more about Oberlin IGA at oberliniga.com.