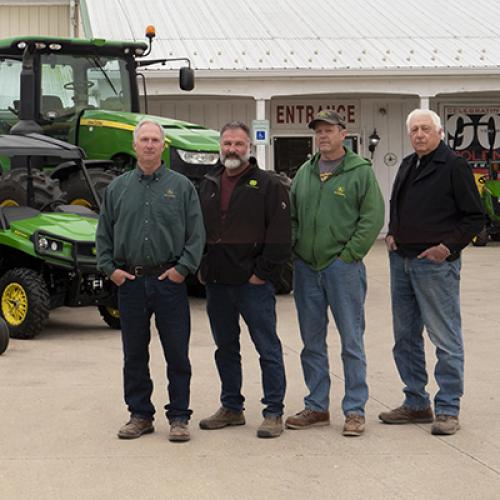 Oct 19, 2022
As iconic as the John Deere brand they represent, Polen Implement has stood as a beacon for the local farming community for nearly a century. Founded 90 years ago, the Elyria firm is celebrating its history and planning for the future.
Dick Polen operates the family business that his father, Thomas, started in 1932 by renting space in a local electric trolley barn to provide farmers with hardware, equipment, and repairs. Throughout the years, the business has overcome challenges, stood with its customers and honored commitments while expanding its offerings to adapt to a changing industry.
"I think my father would be pleased that we have reached this milestone and are still going strong," said Dick, whose father grew up on a Lorain County farm before launching the business during the Great Depression. "I am extremely proud of our people and our family for their hard work to get us where we are today. We plan to keep growing by doing the right things we did to get here." 
Polen Implement's founding came just before American farming experienced a significant transformation due to technological and machine advancements. Our growing country needed to cultivate more extensive tracts of land and increase production yields to meet our food needs. According to Polen, the farming sector continues to embrace innovation, with farmers increasingly using data to gain insight into everything from weather conditions to crops, livestock, and pests. It was a glimpse into the future when John Deere revealed its fully autonomous tractor this year that can plow on its own or work with a combine to harvest crops more efficiently.
Dick and his brother, Thomas Jr., were involved in the family enterprise from an early age. In 1976, the brothers decided to split the company, with Thomas Jr. and his family taking control of Elyria Fence Inc. Dick currently is joined in the business by his two sons, Rich and Tony, and son-in-law, Steve Jackson.
After real estate, equipment is often the second largest expense on a farm's balance sheet. Operating as an independent dealer rather than buying and consolidating multiple dealerships, Polen Implement provides the kind of personalized service that is missing from larger dealerships. Polen said they offer skilled staff and manage inventory effectively by focusing on their community and customers.
"We have grown our business because we know we are responsible to our customers," said Polen. "We make sure we have the equipment and parts they need in stock, and we provide them with great equipment and thoughtful service."
"They know us, and we know them, which is not true of most dealers today. You want someone who cares about your work and is responsive. It's why we have earned trust and are blessed with loyal customers."
The aspect of personal relationships is something Polen said he values in Buckeye Community Bank.
"Buckeye has been very good to us, and they understand our business," Polen said. "When you go into Buckeye, you still have a relationship with the people - that's not really the case with other banks. My father taught me long ago that you build solid business relationships and work with people who care about your success."
"The story of Polen Implement is a wonderful example of a family-owned business proving that with hard work, attention to meeting the needs of your customers and a vision of what's ahead, demonstrates you can achieve the American dream," said Buckeye President and CEO Ben Norton. "We at Buckeye Community Bank are honored to work with a bedrock local company whose achievement is a testament to the Polen family's dedication, vision and commitment."
Visit polenimplement.com to learn more about Polen Implement.
(Those pictured include Polen Implement's Tony Polen, Rich Polen, Steve Jackson and Dick Polen)