Stay Safe, Stay Secure
Buckeye Community Bank is committed to helping ensure the safety of your financial identity, your financial assets, and your personal information, but we need your help. To assist you in your fight against cybercriminals and scammers, we periodically provide information and resources you can use to protect yourself. Visit this page for more safety information, as it will be updated.
If you have any questions about your accounts or feel you've been a victim of fraud, please contact us immediately.
 
---
Protect Against Senior Financial Abuse 
The number of financial crimes committed against people 65 and older is rising.
 
The American Bankers Association offers these tips to protect yourself:
Plan ahead by exploring your best options with a trusted financial or legal advisor
Shred financial documents and offers
Never give any personal or business information, including your Social Security number or account numbers, to anyone you did not initiate contact with
Don't sign any documents you don't fully understand without consulting a financial advisor or lawyer
Before hiring anyone, check their references and credentials
Trust your instincts because if something doesn't feel right, it probably isn't
Learn more ways to protect you and your family against financial abuse from the ABA at bit.ly/stopfinabuse. And if you see potential fraud, report it to reportfraud.ftc.gov or ohioprotects.org.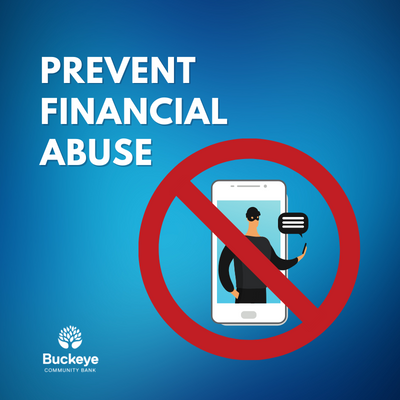 ---
Beware of Gas Savings Scams
Gas prices are still high, so we all want to save money. Reports are increasing of scams related to gas saving online and through unsolicited messages, according to the Better Business Bureau. A few scams include notification of winning a gas gift card and only having to pay for shipping, discounts for completing online surveys, and devices reporting to improve your fuel effectiveness. Identity thieves can gain access your account and personal information if you respond to these offers.
Protect yourself against gas savings scams:
• Never Pay to Win – legitimate companies will never ask for money to collect prizes
• Do Your Research First – verify that companies are offering savings through their official sources
• Don't React Quickly – breathe deeply before responding to an offer, as scammers play on your excitement and think you may ignore suspicious details 
• Avoid Useless Gadgets – some gadgets, such as fuel-line magnets and injector improvers, promise to improve fuel efficiency but could severely damage your engine
Use tried-and-true methods to drive more efficiently, such as following a regular vehicle maintenance schedule, observing speed limits and using trusted local service professionals. 
Act quickly if you suspect you have been a victim of fraud or scams by reporting them to the Federal Trade Commission or Ohio Attorney General.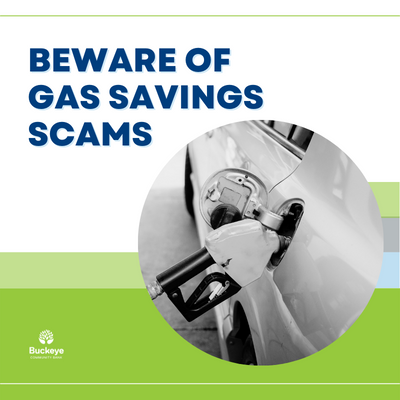 ---
Watch Out for Tech Support Scams
If your computer or device is acting up, it is still a target for scammers trying to steal your business and personal information.
While scammers take advantage of reasonable concerns about viruses, their goal is not to protect your computer. Instead, they try to sell you useless services or install malware that gives them access to everything on your computer.
You can protect yourself and your team from tech support scams with the following tip:
Never Give Unknown People Access – scammers often call or send a message saying your device has a problem, then ask for access to fix it
Beware of Pop-ups and Messages – cybercriminals use on-screen warnings, emails and pop-up messages to trick you into clicking on harmful links or calling a phone number that gives them access to your data
Update Antivirus Software Regularly – by updating your software regularly, you can combat new viruses and exploits targeting your device
Use Legitimate Tech Companies – when you need to repair your device or have it checked, contact your device's manufacturer or a reputable local support option who can assist you in resolving any issues
Act quickly if you suspect you have been a victim of fraud. Contact your bank or credit card company to block any unauthorized transactions. Any possible scams can be reported to the Federal Trade Commission through reportfraud.ftc.gov or the Ohio Attorney General at 800-282-0515 or ohioprotects.org.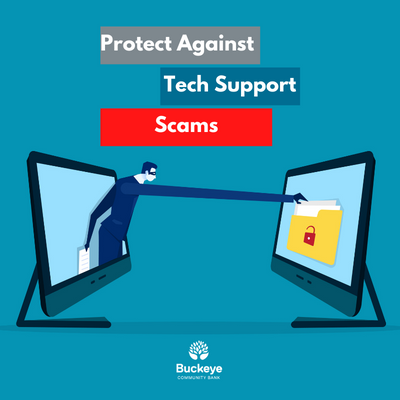 ---
Avoid Online Donation Scams
It is common to see heartbreaking stories and pictures online about someone or a cause asking for donations. As powerful as social platforms can be for organizing collective action and fundraising, there are sometimes scammers behind the plea bent on stealing your money and personal information.
 
You can protect yourself by ensuring your generosity goes to valid causes. Here are some tips from the Federal Trade Commission and Better Business Bureau:
Use Respected Research Tools – Regardless of how official a social post or email message appears, do not click on any links. You can find reports and ratings on various charities and their business practices using organizations like BBB Wise Giving Alliance, Charity Navigator and CharityWatch if you are interested in the cause or organization. If you want to find out if a charity or fundraiser is registered in your state, the National Association of State Charity Officials can assist you.
 
Be Inspired, But Be Wary – Do not respond to unsolicited messages from an unknown person claiming to be affected by an incident, medical condition or disaster. The person dealing with a situation usually has no time to contact you directly and is likely a scammer.
 
Use Only Authentic Sites – Scammers spend a lot of time creating fraudulent sites for well-publicized events, conditions or disasters to exploit your kindness. Visit the websites of well-known organizations like the American Red Cross or United Way to learn how you can help a cause you care about helping. Many of these groups will have links to other response organizations' official websites.
 
Watch Out for Common Tricks – Scams target people of all ages and income levels. Everyone is susceptible to scams because they look real and can catch you off guard. Taking advantage of advancing technology and events, scammers create convincing stories to part you from your money and information. A few tried-and-true methods include rushing you into making a donation, tricking you into paying by thanking you for a contribution you didn't make and changing caller identification labels to make it appear as a local call.If you see red flags, report them to reportfraud.ftc.gov or ohioprotects.org.
If you see red flags, report them to reportfraud.ftc.gov or ohioprotects.org.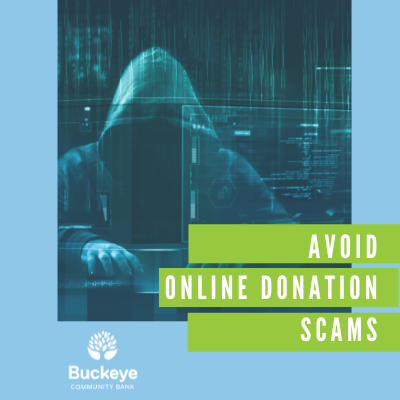 ---
Beware of Crypto Scams
Are you confused about cryptocurrencies? Don't worry, you're not the only one. 
Cryptocurrency is a form of payment that can either be exchanged online for goods and services or held as an investment. Using blockchain technology, it manages and records transactions across many linked computers. Cryptocurrencies can be bought through an online exchange platform or earned through a complex mining process.
The Ohio Attorney General advises doing your research first because cryptocurrency is complex and not regulated by any state or federal government agency. Here are some common scams to watch out for:
Impostor Wallets - cryptocurrencies are stored in digital wallets on a device or online and require you to send funds to the correct wallet because scammers can divert funds that intended for another person
Social Media Scam - watch out for tweets, texts, or email messages asking you to send cryptocurrency because they are likely scams, and once cryptocurrency is sent, it cannot be recovered
Referral Scams - like a pyramid schemes, these scams work by recruiting investors in several investment tiers, with the idea that the more you invest and the more additional people you recruit, the more money you will make
Giveaway Scams - a hustle that falsely claims to be sponsored by celebrities and promises recipients they will multiply the amount of cryptocurrency they send from a nonexistent jackpot or lottery
Learn more about cryptocurrency and scams from the Federal Trade Commission and report problems to the Ohio Attorney General.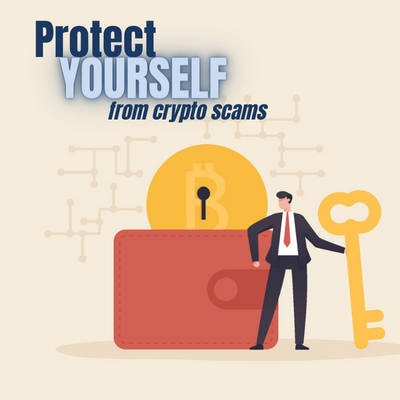 ---
Protect Yourself from Phishing
Phishing is the most common cyber scam and is becoming a more significant threat.  A phishing attempt involves posing as a trusted source, usually via email or text, to trick an individual into revealing sensitive information. Criminals know consumers are likelier to click on a link that looks official.
 
To protect yourself from phishing, you can take the following steps:
Check Before Click – if you receive an unsolicited message, check your accounts through verified websites or phone numbers to make sure that the accounts are intact and there are no unexpected charges
Don't Call Back – never return a call or message from an unknown number, but rather check the real company's website and not a number given in an unexpected message
Never Pay Someone with a Gift Card – if a stranger asks you to pay with an untraceable gift card, it's probably a scam
Refuse Remote Access – scammers may claim to be from a government agency, computer company or online store that needs access to your computer or device, but granting access gives them an open door to all your personal and business information and financial details
Remember no one from Buckeye Community Bank will ever ask you unsolicited to provide information like your Social Security number, bank account numbers, account logins or business tax information. If you have any questions or concerns about a request that you receive, feel free to call us at 440-233-8800.
 

Find more information to protect your business, or to report scam attempts, by visiting the Ohio Attorney General's Office and the Federal Trade Commission.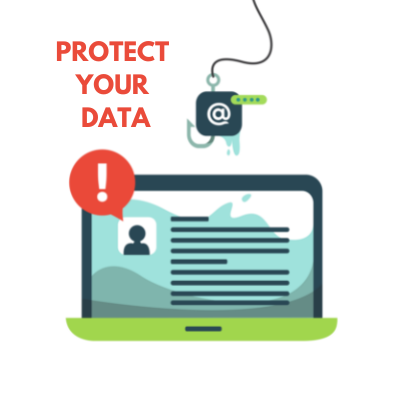 ---
Stop Check Fraud
Reports of check fraud are on the rise. Positive Pay, a fraud detection tool offered by Buckeye Community Bank, helps protect you against becoming a victim. 
Positive Pay allows your team to create a data file for every check issued, including the issue date, check number, and dollar amount. Your check details can be uploaded or entered directly into your Buckeye online account. When checks are received for payment, the details are compared with the Positive Pay data file.
If this information matches, the check is posted to your account. A Positive Pay exception report is generated if the details do not match and are sent straight to you. You review each item and decide whether to pay or not. 
Buckeye's Positive Pay helps reduce check fraud by providing a tool to detect fraudulent items. Positive Pay further protects your business against lost, stolen, counterfeit, and duplicate checks since all checks presented for payment are verified.
Contact Buckeye at 440-233-8800 to learn more about Buckeye's Positive Pay.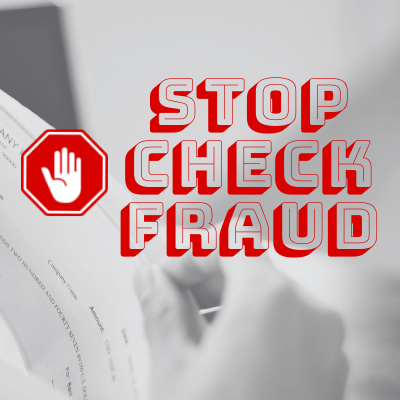 ---
Protect Yourself from Home Improvement Scams
Increasing temperatures signal the start of the season for home improvement projects. Even though most local contractors are reputable and do fantastic work, this season also brings out scammers. You should do your homework before hiring any contractor.
 
Here are some tips from the Ohio Attorney General's Office to protect yourself from scams and unscrupulous contractors:
Check references, customer feedback, and past work before hiring
Get multiple written estimates from different contractors 
Ensure they are licensed, certified and insured
Pay in increments rather than making a large down payment
Don't pay in cash
Make sure all promises are in writing
Avoid contractors who want payment made out to them personally instead of a company
Check out a company's reputation and learn how to protect yourself by visiting the Ohio Attorney General's Office and the Better Business Bureau.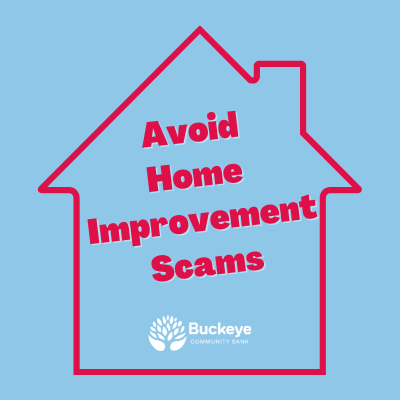 ---
Social Media Scams Growing
Social media is an integral part of many people's lives.  According to the Federal Trade Commission, social media is also increasingly being used by scammers because it is the most profitable way for them to reach consumers. Last year, more than 1-in-4 people reported losing money to a fraudulent advertisement, post or message on social media.
You can raise your protection with a few steps:
Limit who can see your posts on social media by changing your privacy settings
Opt out of targeted advertising
Verify any messages from friends about an opportunity or urgent need for money - call them to see if their account was hacked
Be wary of anyone who connects with you and rushes to start a friendship or romance
Before you buy, check out the company for scams or complaints
Visit ftc.gov/scams to learn more about the newest scams or to report fraud.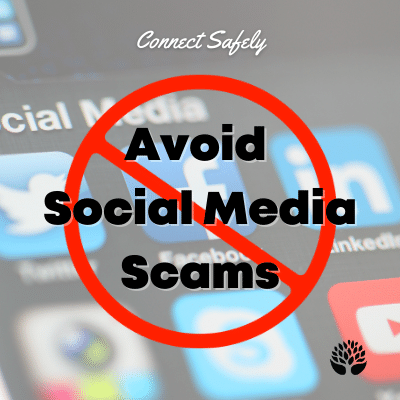 ---
Take Steps to Protect Your Company Today
Cybersecurity is now more critical than ever. Being aware can help you keep your business information secure. 
Secure Your Networks and Databases

Set up firewalls and encrypt data to prevent criminals from gaining access to sensitive information.
Educate Your Team

Discuss with your employees their role in securing and protecting the information of their colleagues, customers, and the company. Establish policies so everyone knows what is acceptable and what is not permitted.
Enforce Security Practices

Develop policies that protect your company against attacks and provide guidelines for resolving issues when they arise. Be sure to outline how various situations will be handled and the consequences if a policy violation occurs.
Identify Fake Notifications

Teach your team how to recognize fake warnings and alert your IT experts when they notice anything suspicious.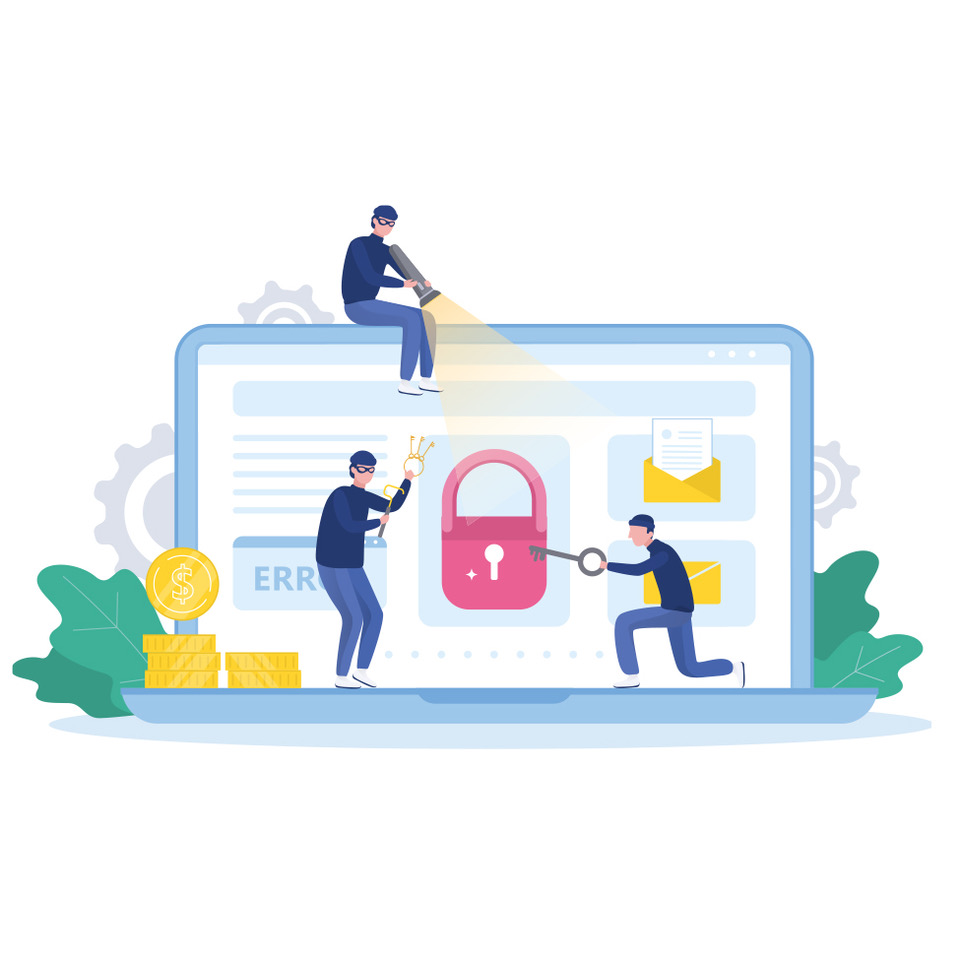 ---
Protect Yourself During National Consumer Protection Week
This week is National Consumer Protection Week, making it the perfect time to protect yourself against identity theft and financial fraud. Be vigilant because the bad guys are working overtime to separate you from your identity and money.
 
Here are a few steps you can take to protect yourself:
Keep Your Contact Information Updated - Make sure your bank and financial firms have the latest information on you so that you receive information and account statements.
Set Up Account Alerts - Alerts can notify you of large transactions, new transfers or significant account changes so you can take action immediately if needed.
Ignore and Report Suspicious Contacts – Beware of unsolicited emails, texts and phone calls purporting to be from banks, credit cards or government agencies.
Don't Reveal Your Information to Just Anyone - Never give personal or business information to anyone who contacts you unexpectedly through a message or phone call.
Watch Out for Sophisticated Counterfeit Messages – Watch out for signs of spoofed messages when criminals use official-looking government logos or corporate branding to make communications look authentic, but the "from" addresses is not from an official source.
Don't Click Links or Open Attachments – Never click on links or download files from an email or text unless you are 100 percent sure of where it's from, as these can launch malicious software on your computer or smart device.
Find more tips and resources to protect your information and accounts at consumer.ftc.gov.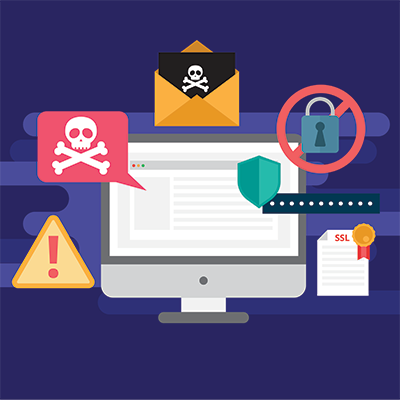 ---
Protect Your Company from Cyber Attacks
Cybercrime can have a significant negative impact on your business if proper precautions are not taken to prevent it. Being aware can help you keep your businesses information secure.
Secure your networks and databases

Protect your networks by setting up firewalls and encrypting information. This will help minimize the risk of cyber criminals gaining access to confidential information. Make sure your Wi-Fi network is hidden and the password protected. Make sure to be selective of the information that is being stored in the company databases. Databases can be a great means for companies to have a central location of data and documents, but this does not mean it is favorable to store any and all information. Automatic backing up of company data should be set to be completed either once a day or once a week, depending on the level of activity within your company. Backing up your company's data will increase the likelihood that with a cyber attack, your company's data will not be lost completely, which is all too common.
Educate your employees

Talk to your employees about their role in securing and protecting the information of their colleagues, customers, and the company. Have policies set in place so they know what practices are acceptable and unacceptable. Limit the number of users within the company who will have administrative access. This will minimize the amount of programs they will be able to download, therefore, minimizing the risks of downloading viruses and malicious software.
Create security policies and practices

Establish practices and policies to protect your company from cyber attacks and provide guidelines for resolving issues if they arise. Make sure to outline how situations will be handled and the consequences if an employee violates the policies. Control physical access to company devices and dispose of them properly. Prevent access to company computers and handheld devices from unauthorized users. Laptops and cellphones are easy targets for cyber theft since they can be misplaced easily or stolen quickly. Reset devices that are being disposed of back to factory setting. Never get rid of a cellphone or laptop without completing this step. Failure to do so could result in company information winding up in the hands of the cyber criminal.
Know how to distinguish between fake and real notifications

Train your employees to be able to recognize fake antivirus warning messages and alert IT as soon as they notice anything questionable occurring (if necessary). Make sure your company has a policy in place for the steps to be taken should an employee's computer become infected with a virus. Malware is a sneaky program that can obtain information by making its way onto devices via the Internet, social media, email, attachments, and downloads. For example, key-logging malware can track everything the user types on their keyboard. This means cyber criminals could access bank accounts, customer information, passwords, and other company-sensitive information. Make sure to keep your security software up-to-date to help prevent malware from sneaking onto your system and networks.
Source: Office of Consumer Affairs and Business Regulation, State of Massachusetts