Stay Safe, Stay Secure
Buckeye Community Bank is committed to helping ensure the safety of your financial identity, your financial assets, and your personal information, but we need your help. To assist you in your fight against cybercriminals and scammers, we periodically provide information and resources you can use to protect yourself. Visit this page for more safety information, as it will be updated.
If you have any questions about your accounts or feel you've been a victim of fraud, please contact us immediately.
---
Stay Alert for Travel Scams
As the holidays approach, it's a great time to travel, but it's also a time to be extra vigilant about scams. Here are some quick tips to help you have a safe and enjoyable trip:
Only Trust After You Verify: Always double-check hotel and flight deals and make reservations from official websites. 
Beware of Phishing: Beware of unsolicited emails or messages offering holiday deals. Do not click on links from unknown sources - they often take you to fraudulent sites.
Protect Your Information: Make sure your financial and personal information is secure. During busy travel times, scammers are looking for easy targets.
Watch Out for Fake Rental Listings: Are you looking for a holiday rental? Book only through reputable websites. Avoid transferring money directly to individuals for rentals you haven't verified.
Report Suspicious Offers: Report any potential scams to the relevant authorities. Help keep everyone safe and informed.
It's important to remember that being cautious doesn't mean you can't have fun. Be smart, travel safely, and make the most of your holiday memories.

---
Avoid Ticket Scams
There are some great concerts still to see this year. Whether you're looking for indie rock, electrifying pop, or soulful R&B, there's a concert for you. It's also an excellent time to avoid being scammed by fake tickets.
You can avoid losing money or missing out on the show by following some simple tips:
Buy Direct When Possible
Do Your Research on Sellers
Make Sure Seats Actually Exist
Use Secure Websites
Trust Your Gut & Be Skeptical
Use Trusted Payment Methods
Stay smart and stay safe to enjoy the magic of live music. To help protect other fans, please report any possible scams to the Ohio Attorney General's Office at ohioprotects.org.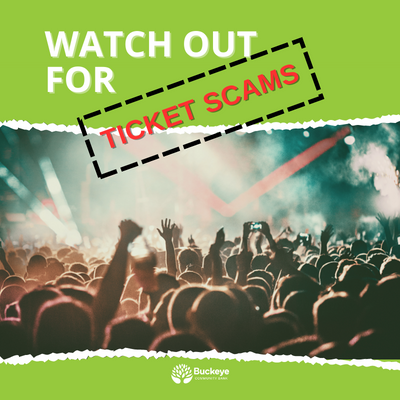 ---
Watch Out for "Prime" Scams
Amazon Prime Day and other retailers' summer sales are upon us. Some great deals can be found during these "shopping holidays" but they're also prone to scams.
Do your research before you add an item to your cart, warns the Better Business Bureau. You should also watch out for scammers who pretend to be from Amazon or another retailer.
During these online shopping sales, the BBB offers these tips for staying safe:
Beware of unsolicited emails, texts, or phone calls
Watch out for social media ads leading to counterfeit websites
Ensure that the website you are shopping on is secure
Purchase sought-after products with caution
Use a credit card 
Have fun during these shopping holidays but stay vigilant and watch for thieves and scams.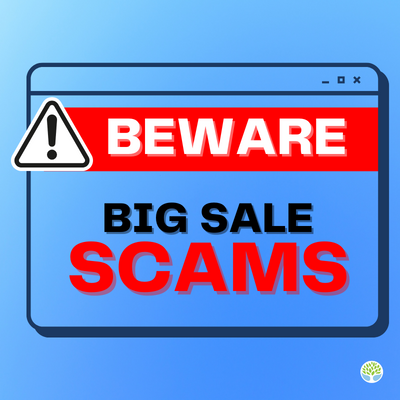 ---
Beware of Investor Scams 
Make sure your money and financial future are protected. The number of investment scams is rising, and they can devastate you. 
The expertise of professionals is essential when investing. The Ohio Department of Commerce's Division of Securities issued an investor alert to inform and help you stay vigilant. Protect yourself and your business against common descriptions, including the areas of:
Affinity Fraud
Unregistered Products or Unlicensed Sales Representatives
Ponzi Schemes
Investment Seminars
Oil and Gas Wells
Real Estate
The SEC has identified some red flags of investment fraud, such as:
Unlicensed investment professionals
Aggressive sellers who may provide exaggerated or false credentials
Offers that seem too good to be true
"Risk-free" investment opportunities
Promises of great wealth and guaranteed returns
Unsolicited pitches seeking to obtain your personal information
Requests for investment payment by credit card, gift card or wiring money abroad or to a personal account
More investing information, plus how to check the background of an investment professional, can be found at the U.S. Securities and Exchange Commission at www.investor.gov or 800-732-0330.
And Ohio residents can find help avoiding potential securities fraud from the Ohio Department of Commerce, Division of Securities' Investor Protection Hotline at 877-683-7841.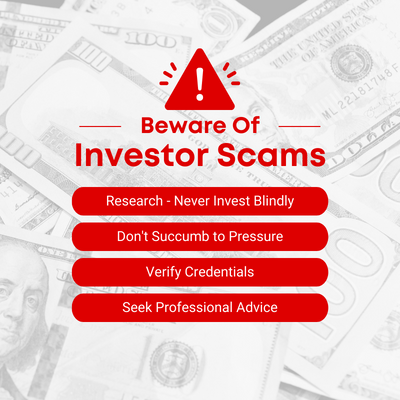 ---
Stop Senior Financial Abuse 
Financial crimes are increasingly victimizing seniors. You can protect yourself and your family by following these tips from the American Bankers Association:
Financial crimes are increasingly victimizing seniors. You can protect yourself and your family by following these tips from the American Bankers Association:
Shred all unneeded financial documents and offers
Never give out your Social Security number or account number to anyone you haven't initiated contact with
Consult a financial advisor or lawyer before signing any documents that you don't fully understand
Trust your instincts – if something doesn't feel right, it probably isn't
Family members should watch for red flags like unusual activity in an older person's bank accounts, including large, frequent or unexplained withdrawals
Find out how to protect yourself and your family from financial abuse by visiting the ABA tip page.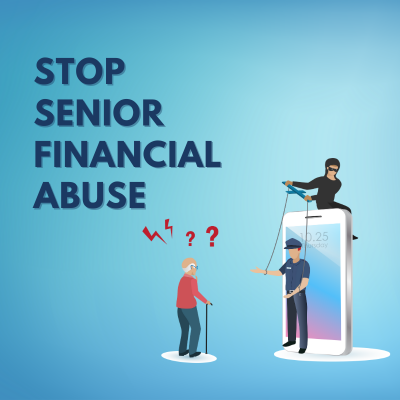 ---
Watch Out for Facebook Messenger Hack 
A Facebook direct message hacking scam is quickly spreading, according to cybersecurity experts.
 
A phishing scam known as "Look Who Died" tries to get access to your Facebook account by sending you a direct message that appears to be from someone you know and contains a link to an article about an accident that killed someone you know or perhaps a celebrity.
 
Clicking on the link will download malware onto your phone or computer, which provides criminals with Facebook login information. Facebook accounts are targets for scammers because they contain information such as your shopping history and photos, which allows them to send messages from your account to friends to further the phishing scam.
 
You should immediately take the following steps, according to security experts, if you are tricked and click on the scam link: 
Check Your Account – ensure you are not locked out and immediately change your password so no one can log into your account
Report the Scam – alert Facebook of the suspicious activity to help the site prevent future scams
Secure Your Account – log out of any devices or locations you don't recognize, and review any websites or apps that have permission to access your Facebook account or log in
Update Your Email and Online Accounts – if you lose access to your primary email address, you are more likely to have multiple accounts compromised and enable two-factor authentication for all online accounts as a more robust security measure
Scan Your Devices – update and use anti-malware and security software to scan your device for any hidden threats
Visit the Federal Trade Commission at consumer.ftc.gov/scams to learn more about protecting yourself against emerging scams.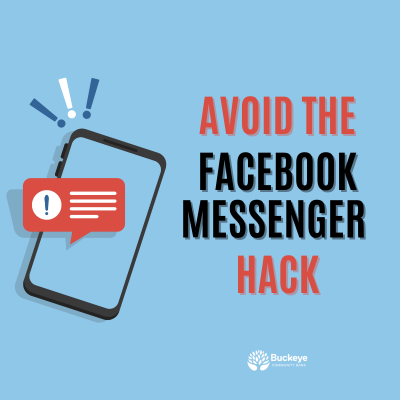 ---
Avoid Online Marketplace Scams
Online marketplaces provide great options if you're looking to buy gear or sell your stuff to earn some extra cash. Avoid online marketplace scams by staying vigilant. The scammers are getting craftier, and we must be one step ahead to protect ourselves.
Here are a few tips to stay safe:
Do your research by checking out the seller and platform
Trust your instincts – if it seems too good to be true, it probably is 
Only use trusted and secure payment options
Do not share sensitive personal information
Report scams or suspected fraudulent behavior
---
Beware of Easy Tax Fix Scams
Although tax season has passed, you may still need to deal with tax issues. According to the Federal Trade Commission, tax relief companies might claim to be able to help, but they often leave you even further in debt with no help. 
Some tax relief companies claim they can lower or eliminate your tax debts and stop the collection of back taxes. You can enlist their help if you pay them first. The problem is that if you pay, you may end up in debt without the promised tax relief. These scammers advertise programs that most taxpayers might not qualify for. Most of the time, these companies do not settle your tax debt, according to the FTC. 
So, what are your options? You can work out a payment plan directly with the IRS for federal taxes or the state taxation department.
Protect yourself by:
Not believing promises that you are eligible for a tax relief program. Only federal and state tax officials can determine your eligibility. 
Never doing business with anyone who wants to get paid in full upfront. 
Keeping away from companies that charge you monthly maintenance fees. Often these companies will promise you a quick resolution and that you'll only pay for a few months. 
Avoiding companies that guarantee a particular result, as everyone's situation is unique.  
For more information, visit the FTC at bit.ly/ftcbacktaxes.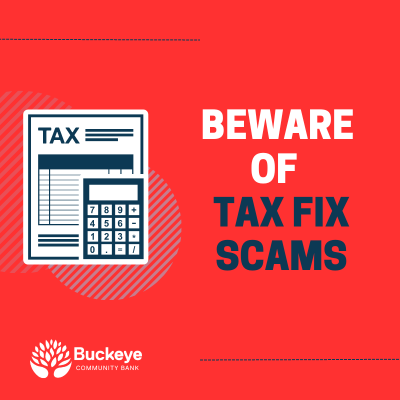 ---
Protect Your Business from Fake Invoices
Businesses are being targeted by scammers who send fake invoices for nonexistent services or products, hoping you'll pay. Each year, millions of dollars are lost by organizations of all sizes.
 
According to the Better Business Bureau's Scam Tracker, business owners have reported fake invoices for everything from office supplies to domain hosting services. Take some steps to protect your business by:
Verifying Existing Vendor Billing Information
Check Payment Instructions to Spot Scams 
Use Secure Payment Methods 
Train Your Team to Spot Unusual Invoices
Establish Internal Procedures for Paying Bills
Make sure your team feels comfortable asking questions and voicing concerns about invoices. 
 
Report scam invoices to the Federal Trade Commission at reportfraud.ftc.gov or the Ohio Attorney General at ohioattorneygeneral.gov to assist law enforcement.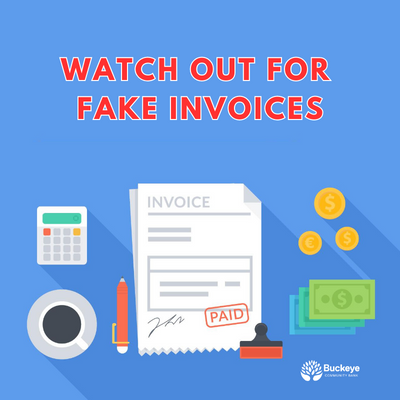 ---
Do the Troubled Banks Affect Us?
Recent news about Silicon Valley Bank and Signature Bank in New York may raise some questions. We wanted to provide you with some brief information about the situation and reassure you that Buckeye Community Bank is not impacted.
The news is not reflective of the entire banking industry or Buckeye Community Bank.
Buckeye continues to be a strong-performing community bank. We are committed to providing innovative financial solutions that are convenient, reliable, and secure to the local business community. 
What Happened?
Silicon Valley Bank recently reported declines in deposits, funding, and investments. As a result, many tech and start-up companies rushed to withdraw money from the bank. The Federal Deposit Insurance Corporation (FDIC) placed the bank under receivership days later. Over the weekend, federal officials took control of Signature Bank in New York. News reports say the decision was made after the bank was negatively impacted by its cryptocurrency exposure.
Our Local Focus is Stable and Strong
Since Buckeye operates independently with a separate business model, risk management strategies, and diversified clientele, we are not affected by other banks.
According to reports, there needed to be more diversity in the clientele of distressed banks. As a result of the banks' approach to serving niche sectors, the banks became more vulnerable and had more difficulty managing the past year's aggressive interest rate hikes.
Buckeye's mission remains unchanged. Our community bank remains well-capitalized and positioned to continue serving our local customers. Diversification and soundness have always been important as part of our traditional relationship-based business model. 
We remain committed to our founding mission of enabling local businesses to make meaningful contributions to our community's economy and quality of life by providing them with the financial resources and services they need to succeed.
Due to our deep knowledge of our clients and communities, we are proud to be an integral partner for our clients by making local, common-sense business financing decisions. 
We're excited to continue supporting the growth of our clients and our community. Please feel free to contact us if you have any questions about your Buckeye account.

---
Don't Fall for a Romance Scams  
Thieves are constantly looking to take advantage of people's most vulnerable emotions by exploiting those who use online platforms to foster new connections. This Valentine's Day – and every day – be careful with what you share online, and never send money or sensitive information to someone you have not met in real life. 
Here are some tips to avoid romance scams:
Be cautious of anyone who contacts you online, particularly if you haven't met in person
Never give out personal or financial information to someone you just met online
Beware of anyone who asks you for money or says they are in financial trouble
Be wary of anyone who avoids video chats or in-person meetings
Never agree to open a bank account for someone, transfer money or re-ship goods they send you
Trust your instincts and be suspicious of anyone who seems too good to be true, and talk to someone you trust if something seems unusual  
If you believe someone is trying to commit fraud or if you are the victim of a romance scam:
Stop all communication immediately
Report any suspicious activity to the online dating company or social media platform
Contact your bank and credit card issuer if money has been exchanged
File a complaint with the Ohio Attorney General at ohioattorneygeneral.gov and the Federal Trade Commission at reportfraud.ftc.gov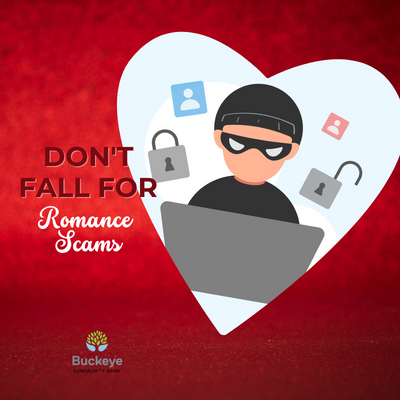 ---
Prevent Tax Identity Theft  
Whether or not you're ready for tax season, thieves and imposters are already geared up.
The act of tax identity theft involves a person filing a false tax return and receiving your refund using your Social Security number. You might only realize it has happened once you try to file your actual tax return and the IRS rejects it as duplicate.
In another tax scam, imposters pretend to be IRS officials and claim you owe taxes. They demand payment immediately, usually with a gift card or prepaid debit card, and threaten arrest or other consequences. It is all a lie, and once you send money, it is gone.
Here are some ways to combat tax identity theft right now:
Keep your personal information, especially your Social Security Number, secure throughout the year
File your tax return as early as possible during tax season
Use a secure connection when filing electronically or mail your tax return directly from the post office
Research a tax preparer thoroughly before providing them with any information
Check your credit report at least once a year to ensure no one has opened a new account in your name
You can find more Federal Trade Commission resources and webinars at bit.ly/ftctaxid to protect you and your business from tax identity theft, recognize fraud and take action if you are a victim of it.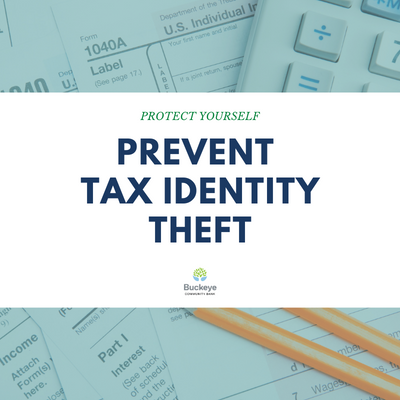 ---
Avoid Spam Text Messages  
Scammers are increasingly using fake text messages to trick you into divulging personal information. Your information can give thieves access to bank and other accounts.
These text messages often contain a link that claims to let you collect a prize, pay off a loan or fix an account problem.
In this approach, criminals claim the following to get you to click and react without thinking:
•Your account is showing suspicious activity;
•There is a problem with your payment information;
•An invoice for a product you didn't order must be paid now; or 
•A shipper needs help delivering a package to you.
If you receive a text message you weren't expecting, never click any links or respond with personal or financial information. Use a phone number or website you know is authentic to contact the company if you think the message is genuine.
The Federal Trade Commission recommends reporting unwanted texts as junk or spam in the messaging app you use and filing a report at reportfraud.ftc.gov to help filter and stop them.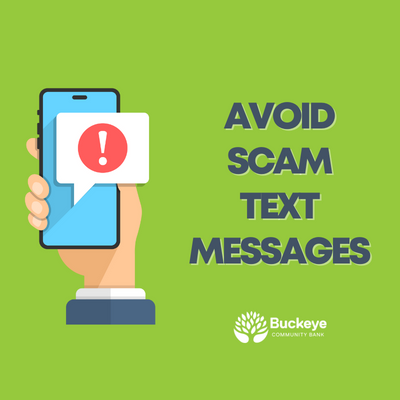 ---
Skip the Quiz, Stop the Phishers  
How do your first car, favorite hobby and high school mascot all relate? Answering that they can be used to secure online accounts or answer online quizzes would be correct! 
Think carefully before responding to a quick web quiz or personality test that appears to be just simple fun.
The more information you share online, the greater the risk thieves can capture and misuse. According to the Federal Trade Commission, scammers have increasingly been phishing for answers to security questions through online quizzes. The answers you provide could be used to reset your accounts, allowing them to access your bank and access other online accounts.
Aside from avoiding online quizzes, ensure you have strong passwords and use multi-factor authentication for your accounts. If your account requires security questions, consider treating them as different passwords and use random answers, preferably long ones. (For example, if you are asked to enter your mother's maiden name, consider entering something like parmesan or another word you'll remember). 
If you suspect an online quiz is a phishing scam, report it to reportfraud.ftc.gov or ohioattorneygeneral.gov.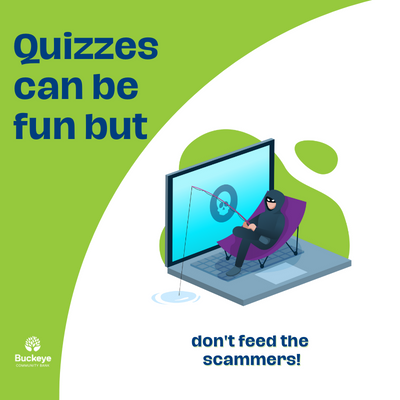 ---
Beware of Malvertising  
A relatively new method of cyberattack is on the rise. Malicious advertising – or malvertising – involves criminals injecting digital ads with harmful code. Because nefarious ads are displayed through real digital ad networks, most web viewers are at risk.
 
The corrupted code can install malicious software on computers or devices with a click. It is possible for the attacker to redirect the user then to a spoofed website or to steal personal and business information in other ways. 
 
Despite the difficulty in preventing infection from a malicious advertising, users can take steps to reduce their risk, according to digital security firm Norton:
Make sure your computer and device software is up-to-date
Install antivirus software and ad-blocking software to reduce your risk
Don't click on links or download anything without thinking
Make sure Flash or Java doesn't automatically run when browsing the web
---
Watch Out for Counterfeit + Stolen Products  
Online shopping plays a key role as we prepare for the holidays. Online shopping has led to an increase in counterfeit and stolen products being sold by fraudsters and thieves. 
Counterfeiting puts all of us at risk. The AARP offers some tips for avoiding fake and stolen gifts this holiday season, including:
Choose Only Reputable Sellers
Find Sites that Guarantee Authenticity
Look Out for Unbelievable Prices
Use a Credit Card 
Report Bogus Sellers and Fake Products
If you find a fake seller or products, help others and law enforcement agencies by reporting them to the Ohio Attorney General and the Federal Trade Commission.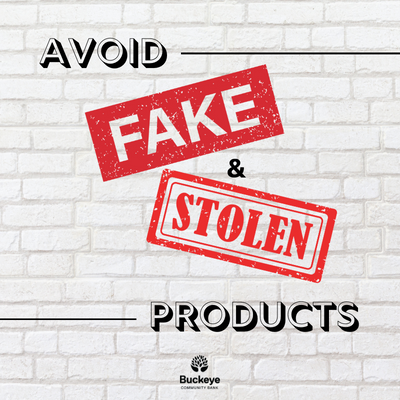 ---
Take Steps to Protect Your Business Data  
Almost every day, the news is filled with stories about cyber security breaches. National Computer Security Day is a good reminder that keeping people and companies safe online is crucial. 
You can take the first steps to keeping your business and team safe by following these simple steps from the Federal Trade Commission:
   • Update your apps, web browsers and operating systems
   • Make sure your files are secure and backed up
   • Require passwords for all devices
   • Encrypt devices that contain sensitive information
   • Create a security-conscious culture with routine training of all employees
Visit bit.ly/ftccyber for more ways to protect your business from the FTC.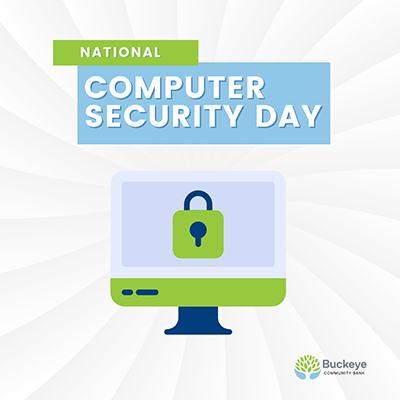 ---
Avoid Ecommerce Scams  
Online shopping has grown steadily over the past few years. Cybercriminals are keeping up with the pace. Consumers most frequently report scams related to online purchases to the Better Business Bureau.
 
Watch out for these warning signs of a scam online store:
Prices that are below market value with discounts that are out of line with other retailers
Poor website design or poor English
Contact options that are limited or suspicious
An address with extraneous words or characters does not look right
You can protect yourself from e-commerce scams by:
Shopping on trusted sites rather than only using search engines
Comparing prices from multiple retailers
Searching for unfamiliar products or brands with terms like "scam" or "complaint"
Making sure the contact information is genuine in case you need to contact the seller
Reviewing the delivery, exchange, refund, and privacy policies carefully
Using a credit card to limit fraudulent charges
Avoid paying by wire transfer, money order, or gift card - reputable sellers don't ask for these types of payment
Report online retail scams to the Federal Trade Commission and the Ohio Attorney General.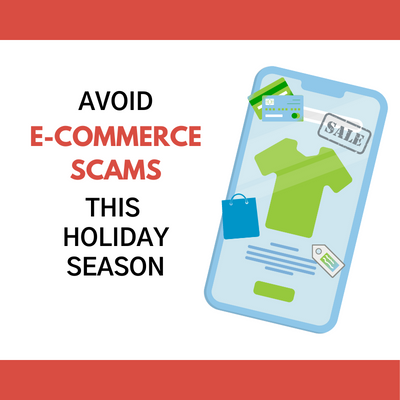 ---
Protect Yourself When Upgrading Devices  
It's the season for getting or gifting the latest smartphones or devices. Before you trade in, sell, give away or recycle your current device, the Federal Trade Commission offers tips to protect your personal information, including:
Backing Up Your Phone or Device - backup your phone or tablet before moving it to a new device so that you have a saved copy of your information.
Removing SIM and Memory Cards - the SIM card securely stores subscriber identity and other essential information, so it is necessary to move to your new device or destroy it. And remember to remove your memory card, if your old phone has one.
Erasing All Information - completely wipe all data on your old device before you move to a new one, including deleting contacts, text messages, photos, videos and browsing history.
Check out more specific steps to prepare for your new devices at the Apple (support.apple.com) and Android (support.google.com) sites.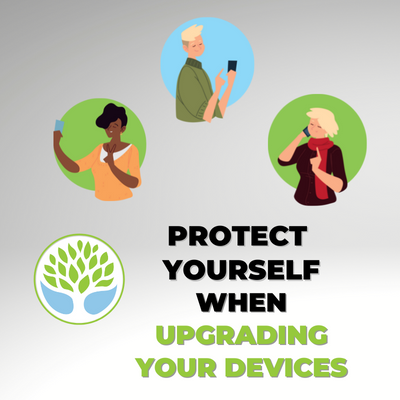 ---
Protect Your Digital Life 
You can secure your digital devices and systems with a bit of preparation. Secure your sensitive data and computer systems with a little knowledge, effort and time. Don't let cybersecurity intimidate you. Losing unprotected data or having your identity stolen is far more expensive than a few minutes of research, preparation and action.
The National Cybersecurity Alliance offers a few tips to stay safe online, including:
•    Keeping Devices Updated
•    Using Long, Unique Passwords for All Accounts
•    Making Use of a Password Manager
•    Using Multi-Factor Authentication 
•    Thinking Twice Before You Click Any Links
•    Using Secure WiFi or a VPN
•    Backing Up Your Digital Information
•    Checking App and Account Privacy and Security Settings Regularly
You can find more details on protecting yourself online by visiting the National Cybersecurity Alliance.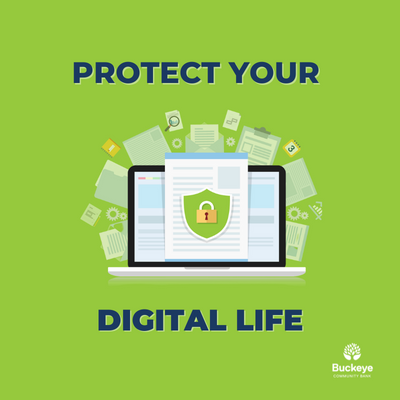 ---
Watch Out for Hurricane Scams 
Photos and stories from Hurricane Ian are devastating. Fraud can occur when natural disasters and severe weather happen, and people are especially vulnerable.
Scammers target Americans' desire to help through phone calls, texts, emails and even door-to-door visits.
The Federal Trade Commission offers several ways to verify a hurricane relief charity:
Find trustworthy, well-known charities on give.org, charitynavigator.org, charitywatch.org, and guidestar.org
Watch out for names that closely resemble those of better-known, reputable organizations
Choose the relief effort you wish to support and search for the charity's name online with the words "complaint," "review," "rating" or "scam" 
Be skeptical of callers thanking you for a pledge you don't remember making
Never click on any links or open attachments in suspicious emails requesting donations or other assistance
Report scams you see at reportfraud.ftc.gov.
---
Defending Your Business Against Ransomware 
Increasingly, businesses are targeted by ransomware attacks, with hackers taking advantage of smaller-sized firms due to their lack of resources. Ransomware is malware that encrypts your computer files until a ransom is paid. 
Here are some tips on how to stop criminals from infiltrating your computer system to protect you and your business:
Keep Software Up to Date - Update your software regularly to receive security patches and upgrades
Employ Multiple Security Measures – Multiple tools like firewalls, anti-virus software, anti-malware software and spam filters can reduce your risk
Increase Staff Awareness – Employee negligence or human error is often the weak link in a company's security, so train your team on cybersecurity awareness 
Limit Access - Provide minimal access to files, programs, and accounts and remove people no longer part of the team or project
Use Strong Authentication - Multifactor authentication with requires a user to provide more than one way to access a network or device
Back-Up Everything, Separately - Maintain frequent backups of your system and disconnect the backups from your network to allow you to restore files if they are compromised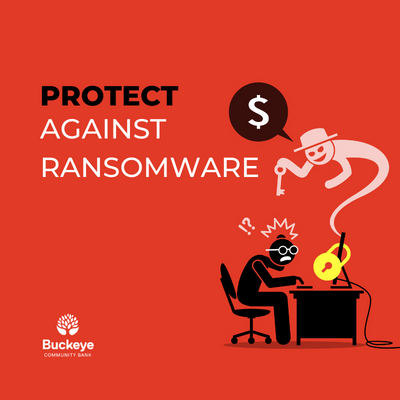 ---
Stay Clear of Fake Check Scams 
Fake check scams continue to target consumers. According to the American Banking Association, here is what you should know to avoid falling victim. The scam usually starts with an offer to buy something you advertised, pay you to work at home or send you an advance on a sweepstake.
The following tips can help you avoid fake check scams:
A Cleared Check May Not Mean You're Clear - Federal law requires banks to make deposited funds available quickly, but that doesn't mean the check is valid. You can ask your banker any questions you may have about the check. Be sure to explain where the check came from, why it was sent to you and if you've been asked to wire money back.
Don't Get Fooled By a Check's Appearance - Counterfeit checks are created by scammers using sophisticated technology to mimic legitimate checks. 
Don't Pay to Play - There is no legitimate reason for someone giving you money to ask you to send money back or give you more than the exact amount. 
Avoid Easy Money Offers - Do not respond to social media offers for quick ways to earn extra cash, which are rarely legit.
Notify your bank immediately if you suspect fraud. Bank staff are experts at spotting fraudulent checks. And report attempted scams to the Federal Trade Commission at reportfraud.ftc.gov and the Ohio Attorney General at ohioprotects.org.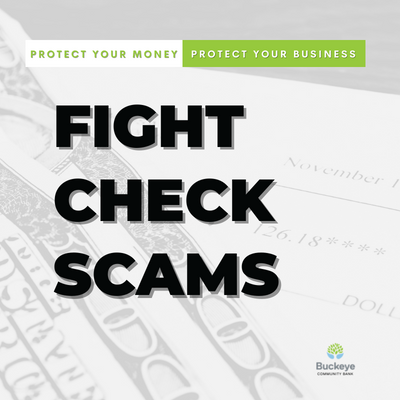 ---
Create + Protect Strong Passwords
Keeping your business and personal financial accounts secure is extremely important. Criminals don't need to be close by to damage your business or steal funds, so you must have strong, protected passwords.
You will never receive an unsolicited phone, text or email message from anyone at Buckeye Community Bank asking for your bank account numbers, login credentials or passwords.
Protect yourself from fraud by using strong passwords to keep accounts secure. Use these tips to protect all your online accounts: 
Avoid Suspicious Messages – Beware of unsolicited emails and texts purporting to be from banks, credit cards or government agencies, and never click on links from the messages.
Create Unique Passwords - Using the same passwords for multiple sites can make a number of your accounts vulnerable if one is hacked.
Don't Pick Common Passwords - When creating different passwords for each account, make sure they are not obvious or contain information that thieves could find on your social media or online sharing, such as anniversaries and pet names.
Use a Password Manager - These tools allow you to create strong, secure passwords and store them securely without having to write them down.
Utilize Biometrics - Many smartphones, laptops and tablets allow you to log in with a fingerprint or face scan, making it safer than writing your password down. 
If you have any questions or concerns about a message you receive, you can reach us at 440-233-8800.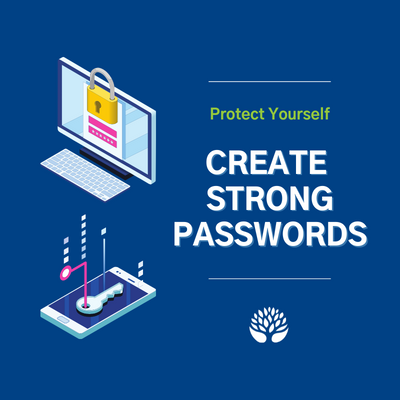 ---
Keep Your Mobile Devices Secure 
Your mobile device can be a treasure trove of information in the wrong hands. Despite its small size, it contains essential information about your bank, company, and social accounts and details about your friends, colleagues, and family.
Keep your information and money safe with the American Bankers Association tips.
Use Passcode Locks – using passcodes to open your device prevents others from gaining quick access if it is lost or stolen
Log Completely Out – sign out of mobile and web banking accounts, as well as other services, when you are finished with them
Use Caution with Apps – some downloaded apps can contain malicious software, so be aware of ones that request unnecessary "permissions" and delete apps that are seldom used
Stay Up to Date – update your devices and apps by downloading new versions from the manufacturer or official software store
Protect Your Sensitive Information – do not store passwords or social security numbers on your mobile device where others might access them
Clean Before Giving Away – before you donate, sell or trade a device, erase all data using specialized software or the manufacturer's recommended method
Beware of Phishing – do not open links or attachments in emails or texts, especially from unknown senders, and be wary of ads that claim your device is infected
Use Only Secure Wi-Fi – only use secure Wi-Fi when conducting sensitive transactions, such as banking or entering account information, and use a virtual private network app when using a public network 
Act quickly if you suspect you have been a victim of data theft by reporting it to the Federal Trade Commission (reportfraud.ftc.gov), the Ohio Attorney General ohioprotects.org and the financial institutions you use.
Find out more about protecting your business and yourself at bit.ly/buckeyesecurity.
A cyber attacker may target your business to gain unauthorized access to its accounts and data. If thieves gain control of the company's accounts, they can make unauthorized transactions, transfer funds, add fake employees to payroll and steal sensitive business and customer information.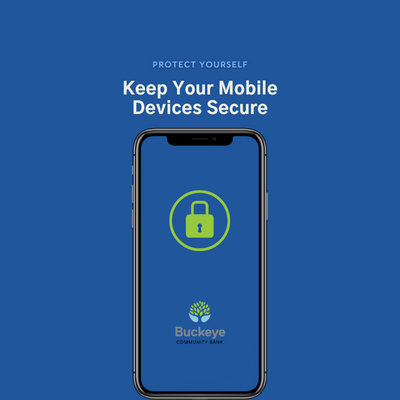 ---
Protect Your Business Accounts from Attack 
A cyber attacker may target your business to gain unauthorized access to its accounts and data. If thieves gain control of the company's accounts, they can make unauthorized transactions, transfer funds, add fake employees to payroll and steal sensitive business and customer information.
Here are some tips from the American Bankers Association to keep your business safe:
Educate Your Employees – The first line of defense is you and your team. Protecting your company and customers requires a robust security program coupled with employee education about warning signs, safe practices and responses to suspected takeovers.
Protect the Online Environment – Just as you protect cash and physical locations, you should also protect your cyber environment. Connect to the internet using a protected connection. Maintain updated virus protections on your computer and encrypt sensitive data. Passwords should be complex and should be changed regularly.
Partner with Your Bank to Prevent Unauthorized Use – Talk to your banker about programs that safeguard you from unauthorized transactions. Fraud prevention tools such as Positive Pay offer the ability to identify, authenticate and block fraudulent items.
Be Vigilant and React Quickly – Watch for unusual account or network activity, pop-ups, and suspicious emails. Contact your financial institution immediately if you suspect a breach, stop online activity and remove any compromised devices from your system. Remember to document what happened and the steps taken.
Understand Your Business Responsibilities and Liabilities – Review and consider your account agreement details and what security measures are required by your business. The security safeguards in the agreement must be understood and implemented. If you do not, you could be liable for losses caused by a takeover. If you have any questions about your responsibilities, consult your banker.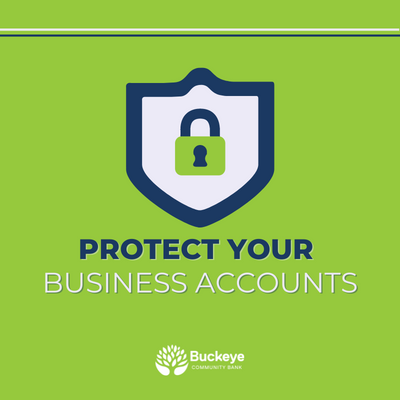 ---
Prevent Senior Financial Abuse 
The number of financial crimes committed against people 65 and older is rising.
 
The American Bankers Association offers these tips to protect yourself:
Plan ahead by exploring your best options with a trusted financial or legal advisor
Shred financial documents and offers
Never give any personal or business information, including your Social Security number or account numbers, to anyone you did not initiate contact with
Don't sign any documents you don't fully understand without consulting a financial advisor or lawyer
Before hiring anyone, check their references and credentials
Trust your instincts because if something doesn't feel right, it probably isn't
Learn more ways to protect you and your family against financial abuse from the ABA at bit.ly/stopfinabuse. And if you see potential fraud, report it to reportfraud.ftc.gov or ohioprotects.org.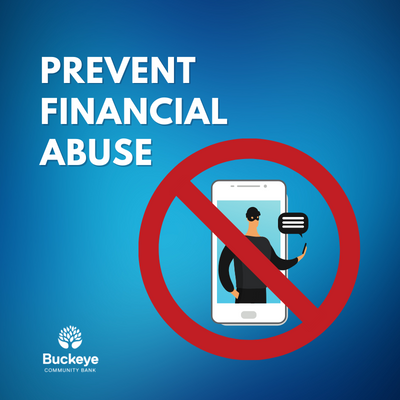 ---
Beware of Gas Savings Scams
Gas prices are still high, so we all want to save money. Reports are increasing of scams related to gas saving online and through unsolicited messages, according to the Better Business Bureau. A few scams include notification of winning a gas gift card and only having to pay for shipping, discounts for completing online surveys, and devices reporting to improve your fuel effectiveness. Identity thieves can gain access your account and personal information if you respond to these offers.
Protect yourself against gas savings scams:
• Never Pay to Win – legitimate companies will never ask for money to collect prizes
• Do Your Research First – verify that companies are offering savings through their official sources
• Don't React Quickly – breathe deeply before responding to an offer, as scammers play on your excitement and think you may ignore suspicious details 
• Avoid Useless Gadgets – some gadgets, such as fuel-line magnets and injector improvers, promise to improve fuel efficiency but could severely damage your engine
Use tried-and-true methods to drive more efficiently, such as following a regular vehicle maintenance schedule, observing speed limits and using trusted local service professionals. 
Act quickly if you suspect you have been a victim of fraud or scams by reporting them to the Federal Trade Commission or Ohio Attorney General.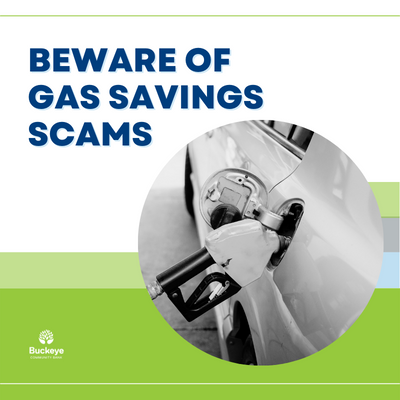 ---
Watch Out for Tech Support Scams
If your computer or device is acting up, it is still a target for scammers trying to steal your business and personal information.
While scammers take advantage of reasonable concerns about viruses, their goal is not to protect your computer. Instead, they try to sell you useless services or install malware that gives them access to everything on your computer.
You can protect yourself and your team from tech support scams with the following tip:
Never Give Unknown People Access – scammers often call or send a message saying your device has a problem, then ask for access to fix it
Beware of Pop-ups and Messages – cybercriminals use on-screen warnings, emails and pop-up messages to trick you into clicking on harmful links or calling a phone number that gives them access to your data
Update Antivirus Software Regularly – by updating your software regularly, you can combat new viruses and exploits targeting your device
Use Legitimate Tech Companies – when you need to repair your device or have it checked, contact your device's manufacturer or a reputable local support option who can assist you in resolving any issues
Act quickly if you suspect you have been a victim of fraud. Contact your bank or credit card company to block any unauthorized transactions. Any possible scams can be reported to the Federal Trade Commission through reportfraud.ftc.gov or the Ohio Attorney General at 800-282-0515 or ohioprotects.org.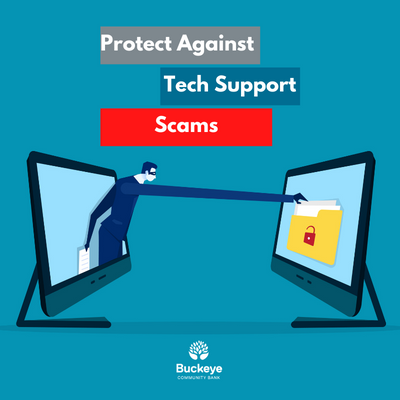 ---
Avoid Online Donation Scams
It is common to see heartbreaking stories and pictures online about someone or a cause asking for donations. As powerful as social platforms can be for organizing collective action and fundraising, there are sometimes scammers behind the plea bent on stealing your money and personal information.
 
You can protect yourself by ensuring your generosity goes to valid causes. Here are some tips from the Federal Trade Commission and Better Business Bureau:
Use Respected Research Tools – Regardless of how official a social post or email message appears, do not click on any links. You can find reports and ratings on various charities and their business practices using organizations like BBB Wise Giving Alliance, Charity Navigator and CharityWatch if you are interested in the cause or organization. If you want to find out if a charity or fundraiser is registered in your state, the National Association of State Charity Officials can assist you.
 
Be Inspired, But Be Wary – Do not respond to unsolicited messages from an unknown person claiming to be affected by an incident, medical condition or disaster. The person dealing with a situation usually has no time to contact you directly and is likely a scammer.
 
Use Only Authentic Sites – Scammers spend a lot of time creating fraudulent sites for well-publicized events, conditions or disasters to exploit your kindness. Visit the websites of well-known organizations like the American Red Cross or United Way to learn how you can help a cause you care about helping. Many of these groups will have links to other response organizations' official websites.
 
Watch Out for Common Tricks – Scams target people of all ages and income levels. Everyone is susceptible to scams because they look real and can catch you off guard. Taking advantage of advancing technology and events, scammers create convincing stories to part you from your money and information. A few tried-and-true methods include rushing you into making a donation, tricking you into paying by thanking you for a contribution you didn't make and changing caller identification labels to make it appear as a local call.If you see red flags, report them to reportfraud.ftc.gov or ohioprotects.org.
If you see red flags, report them to reportfraud.ftc.gov or ohioprotects.org.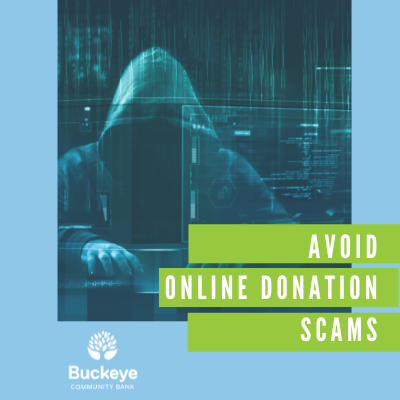 ---
Beware of Crypto Scams
Are you confused about cryptocurrencies? Don't worry, you're not the only one. 
Cryptocurrency is a form of payment that can either be exchanged online for goods and services or held as an investment. Using blockchain technology, it manages and records transactions across many linked computers. Cryptocurrencies can be bought through an online exchange platform or earned through a complex mining process.
The Ohio Attorney General advises doing your research first because cryptocurrency is complex and not regulated by any state or federal government agency. Here are some common scams to watch out for:
Impostor Wallets - cryptocurrencies are stored in digital wallets on a device or online and require you to send funds to the correct wallet because scammers can divert funds that intended for another person
Social Media Scam - watch out for tweets, texts, or email messages asking you to send cryptocurrency because they are likely scams, and once cryptocurrency is sent, it cannot be recovered
Referral Scams - like a pyramid schemes, these scams work by recruiting investors in several investment tiers, with the idea that the more you invest and the more additional people you recruit, the more money you will make
Giveaway Scams - a hustle that falsely claims to be sponsored by celebrities and promises recipients they will multiply the amount of cryptocurrency they send from a nonexistent jackpot or lottery
Learn more about cryptocurrency and scams from the Federal Trade Commission and report problems to the Ohio Attorney General.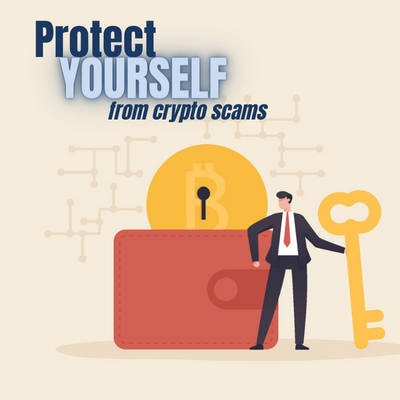 ---
Protect Yourself from Phishing
Phishing is the most common cyber scam and is becoming a more significant threat.  A phishing attempt involves posing as a trusted source, usually via email or text, to trick an individual into revealing sensitive information. Criminals know consumers are likelier to click on a link that looks official.
 
To protect yourself from phishing, you can take the following steps:
Check Before Click – if you receive an unsolicited message, check your accounts through verified websites or phone numbers to make sure that the accounts are intact and there are no unexpected charges
Don't Call Back – never return a call or message from an unknown number, but rather check the real company's website and not a number given in an unexpected message
Never Pay Someone with a Gift Card – if a stranger asks you to pay with an untraceable gift card, it's probably a scam
Refuse Remote Access – scammers may claim to be from a government agency, computer company or online store that needs access to your computer or device, but granting access gives them an open door to all your personal and business information and financial details
Remember no one from Buckeye Community Bank will ever ask you unsolicited to provide information like your Social Security number, bank account numbers, account logins or business tax information. If you have any questions or concerns about a request that you receive, feel free to call us at 440-233-8800.
 

Find more information to protect your business, or to report scam attempts, by visiting the Ohio Attorney General's Office and the Federal Trade Commission.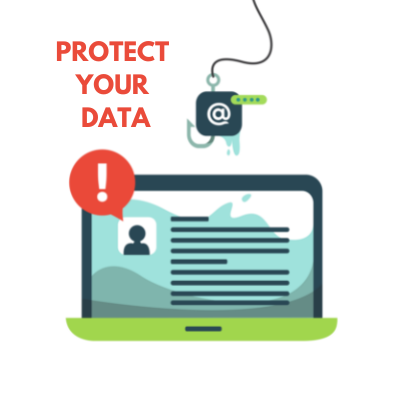 ---
Protect Yourself from Home Improvement Scams
Increasing temperatures signal the start of the season for home improvement projects. Even though most local contractors are reputable and do fantastic work, this season also brings out scammers. You should do your homework before hiring any contractor.
 
Here are some tips from the Ohio Attorney General's Office to protect yourself from scams and unscrupulous contractors:
Check references, customer feedback, and past work before hiring
Get multiple written estimates from different contractors 
Ensure they are licensed, certified and insured
Pay in increments rather than making a large down payment
Don't pay in cash
Make sure all promises are in writing
Avoid contractors who want payment made out to them personally instead of a company
Check out a company's reputation and learn how to protect yourself by visiting the Ohio Attorney General's Office and the Better Business Bureau.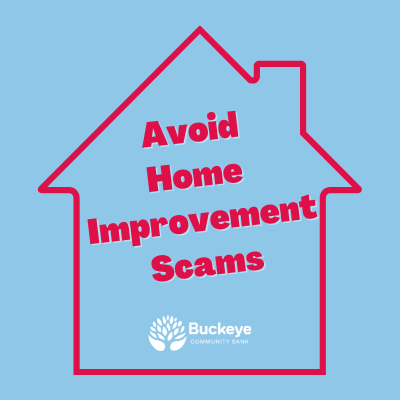 ---
Social Media Scams Growing
Social media is an integral part of many people's lives.  According to the Federal Trade Commission, social media is also increasingly being used by scammers because it is the most profitable way for them to reach consumers. Last year, more than 1-in-4 people reported losing money to a fraudulent advertisement, post or message on social media.
You can raise your protection with a few steps:
Limit who can see your posts on social media by changing your privacy settings
Opt out of targeted advertising
Verify any messages from friends about an opportunity or urgent need for money - call them to see if their account was hacked
Be wary of anyone who connects with you and rushes to start a friendship or romance
Before you buy, check out the company for scams or complaints
Visit ftc.gov/scams to learn more about the newest scams or to report fraud.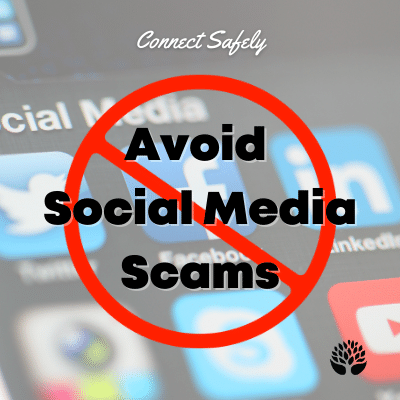 ---
Take Steps to Protect Your Company Today
Cybersecurity is now more critical than ever. Being aware can help you keep your business information secure. 
Secure Your Networks and Databases
Set up firewalls and encrypt data to prevent criminals from gaining access to sensitive information.
Educate Your Team

Discuss with your employees their role in securing and protecting the information of their colleagues, customers, and the company. Establish policies so everyone knows what is acceptable and what is not permitted.
Enforce Security Practices

Develop policies that protect your company against attacks and provide guidelines for resolving issues when they arise. Be sure to outline how various situations will be handled and the consequences if a policy violation occurs.
Identify Fake Notifications

Teach your team how to recognize fake warnings and alert your IT experts when they notice anything suspicious.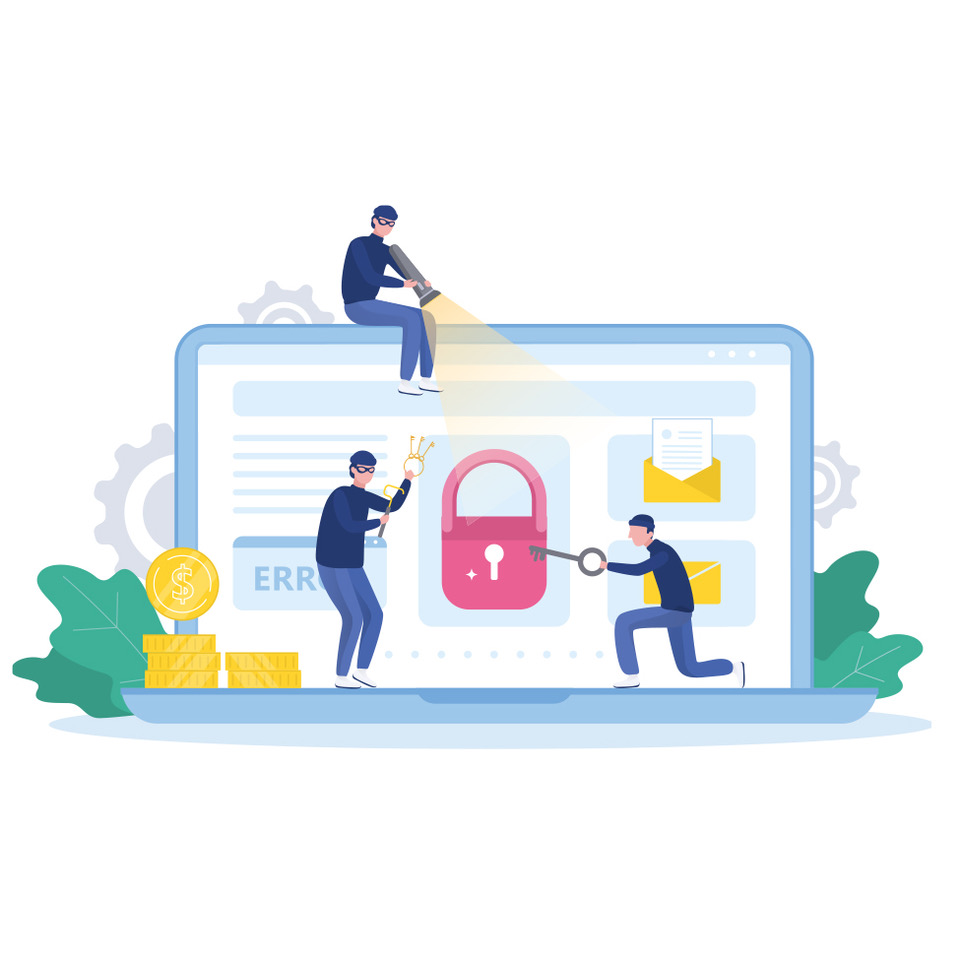 ---
Protect Yourself During National Consumer Protection Week
This week is National Consumer Protection Week, making it the perfect time to protect yourself against identity theft and financial fraud. Be vigilant because the bad guys are working overtime to separate you from your identity and money.
 
Here are a few steps you can take to protect yourself:
Keep Your Contact Information Updated - Make sure your bank and financial firms have the latest information on you so that you receive information and account statements.
Set Up Account Alerts - Alerts can notify you of large transactions, new transfers or significant account changes so you can take action immediately if needed.
Ignore and Report Suspicious Contacts – Beware of unsolicited emails, texts and phone calls purporting to be from banks, credit cards or government agencies.
Don't Reveal Your Information to Just Anyone - Never give personal or business information to anyone who contacts you unexpectedly through a message or phone call.
Watch Out for Sophisticated Counterfeit Messages – Watch out for signs of spoofed messages when criminals use official-looking government logos or corporate branding to make communications look authentic, but the "from" addresses is not from an official source.
Don't Click Links or Open Attachments – Never click on links or download files from an email or text unless you are 100 percent sure of where it's from, as these can launch malicious software on your computer or smart device.
Find more tips and resources to protect your information and accounts at consumer.ftc.gov.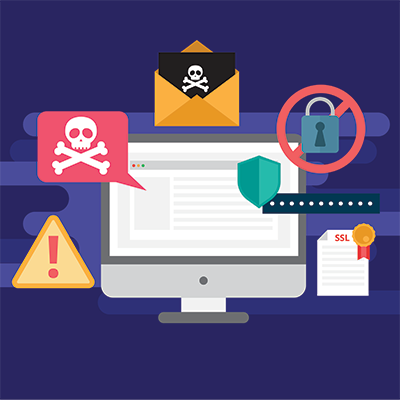 ---
Protect Your Company from Cyber Attacks
Cybercrime can have a significant negative impact on your business if proper precautions are not taken to prevent it. Being aware can help you keep your businesses information secure.
Secure your networks and databases

Protect your networks by setting up firewalls and encrypting information. This will help minimize the risk of cyber criminals gaining access to confidential information. Make sure your Wi-Fi network is hidden and the password protected. Make sure to be selective of the information that is being stored in the company databases. Databases can be a great means for companies to have a central location of data and documents, but this does not mean it is favorable to store any and all information. Automatic backing up of company data should be set to be completed either once a day or once a week, depending on the level of activity within your company. Backing up your company's data will increase the likelihood that with a cyber attack, your company's data will not be lost completely, which is all too common.
Educate your employees

Talk to your employees about their role in securing and protecting the information of their colleagues, customers, and the company. Have policies set in place so they know what practices are acceptable and unacceptable. Limit the number of users within the company who will have administrative access. This will minimize the amount of programs they will be able to download, therefore, minimizing the risks of downloading viruses and malicious software.
Create security policies and practices

Establish practices and policies to protect your company from cyber attacks and provide guidelines for resolving issues if they arise. Make sure to outline how situations will be handled and the consequences if an employee violates the policies. Control physical access to company devices and dispose of them properly. Prevent access to company computers and handheld devices from unauthorized users. Laptops and cellphones are easy targets for cyber theft since they can be misplaced easily or stolen quickly. Reset devices that are being disposed of back to factory setting. Never get rid of a cellphone or laptop without completing this step. Failure to do so could result in company information winding up in the hands of the cyber criminal.
Know how to distinguish between fake and real notifications

Train your employees to be able to recognize fake antivirus warning messages and alert IT as soon as they notice anything questionable occurring (if necessary). Make sure your company has a policy in place for the steps to be taken should an employee's computer become infected with a virus. Malware is a sneaky program that can obtain information by making its way onto devices via the Internet, social media, email, attachments, and downloads. For example, key-logging malware can track everything the user types on their keyboard. This means cyber criminals could access bank accounts, customer information, passwords, and other company-sensitive information. Make sure to keep your security software up-to-date to help prevent malware from sneaking onto your system and networks.
Source: Office of Consumer Affairs and Business Regulation, State of Massachusetts