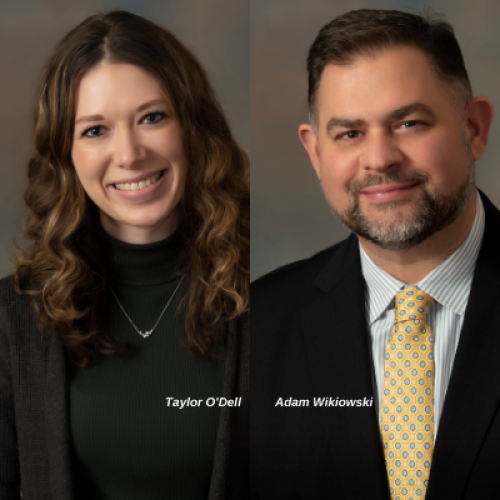 Feb 04, 2022
Buckeye Community Bank welcomes three professionals to enhance its support functions. Taylor O'Dell and Adam Wirkiowski joined Buckeye as commercial services specialists.
"We are pleased to welcome Adam and Taylor to Buckeye Community Bank and anticipate their strong backgrounds and energy will strengthen our client service," Buckeye President and CEO Ben Norton said. "They have demonstrated a commitment to Buckeye's culture of teamwork, relationships and dependability, and a strong interest in the local community and economy."
O'Dell and Wirkiowski now provide direct assistance to the commercial loan team, improving its responsiveness and execution ability. They assist the team's underwriting processes by collecting information for applications, reviewing credit, government and insurance details, and coordinating loan closings and renewals.
"Buckeye's community-oriented mission and focus on helping area businesses succeed attracted me," said O'Dell, who earned degrees from Lorain County Community College and Kent State University. "The leadership is equally concerned about the staff and the clients, and it shows in their work to meet the needs of the business community."
O'Dell, an Elyria resident, enjoys traveling with her fiancé, Jacob, and spending time with family and the couple's two dogs.
"Buckeye's focus on relationship building allows us to serve our clients better," said Wirkiowki, who brings diverse experience in the manufacturing, service and mortgage sectors. "Our internal structure of working as an interconnected team empowers us to take actions that directly benefit clients. It's refreshing to see the CEO and senior leaders daily connecting with the staff and delivering a clear picture of Buckeye's way." 
Wirkiowski, a Denison University graduate, lives in Westlake with his wife, Kate, and their two children. He likes to read, cook, and exercise with F3 when he's not working.