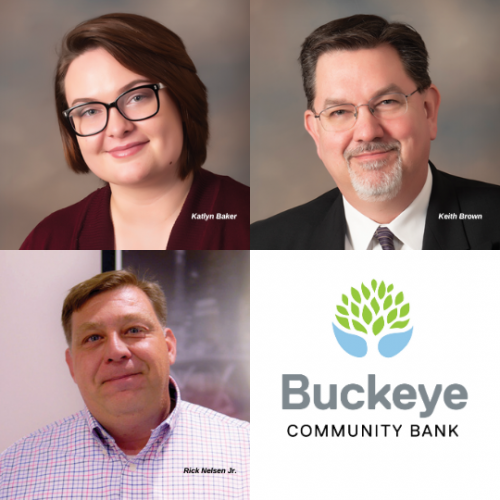 Apr 19, 2021
To support its growth, Buckeye Community Bank has strengthened its efficiency and customer care with the addition of three professionals. Joining the team are Katlyn Baker, Keith Brown and Rick Nelsen Jr. 
"We are excited to welcome Katlyn, Keith, and Rick to the Buckeye Community Bank team, enhancing service to our clients," said Buckeye President and CEO Ben Norton. "They understand the vital importance of developing internal and external relationships and earning loyalty by being responsive. These three have quickly embraced Buckeye's commitment to our clients, teammates and community."
Baker joined Buckeye in the fall as its Accounting Specialist. The detail-oriented position requires her to verify all daily transactions and assist with accounting activities and projects. Solid communications and developing trust are paramount in the post, as it requires Baker to work with various Buckeye staff across numerous departments to ensure compliance and accounting standards are met.
"I enjoy being part of a team that has close ties to the community and has an opportunity to make a deep impact," Baker said. "One of the benefits of Buckeye is a strong team dynamic, where everyone is focused on those we serve and working hard to improve the service they receive." 
Brown joined Buckeye as Vice President, Senior Credit Analyst in January. In his role, he is responsible for reviewing financial information, such as a company's income statement and debt, to determine the borrower's risk. Brown makes recommendations to leadership based on the assessment of the risk involved and viability of a loan or credit transaction.
"I enjoy working for a community bank that has the ability to help small businesses locally," said Brown. "The people at Buckeye are great, and it's rewarding to make a connection to the businesses impacting our community."
Nelsen joined Buckeye as Credit Analyst in March. He brings a deep background in professional accounting and interpreting financial records for businesses and organizations. At Buckeye, he is responsible for evaluating credit data and financial information related to loan requests to determine the degree of risk involved in lending for the bank. 
"Working at Buckeye has an incredibly familiar feel in that it feels like I'm working alongside family," Nelson said. "I'm finding that a great deal of the work I perform involves clients who have been banking at Buckeye for some time, and it's likely they have been doing so for some of the very same characteristics that drew me to the bank."