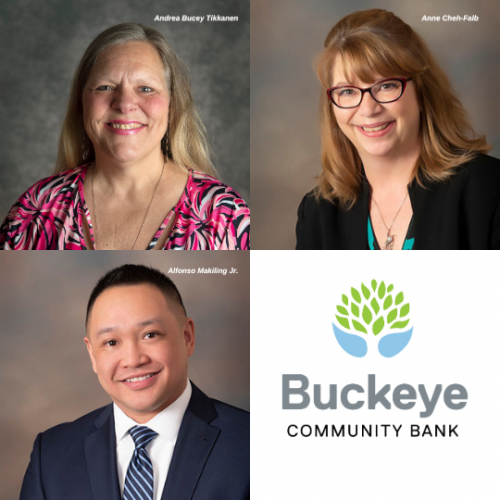 Apr 19, 2021
Buckeye Community Bank has added three commercial banking professionals focused on building relationships and expanding Buckeye's reach throughout the region. The team members – Andrea Bucey Tikkanen, Anne Cheh-Falb and Alfonso Makiling Jr. – will work to increase the reach of Buckeye's business-focused offerings in a variety of
Northeast Ohio sectors.
"We recruited exceptional bankers who bring the knowledge, skills and relationships needed to help our business community grow and thrive. Andrea, Anne and Alfonso have demonstrated great versatility and commitment to Northeast Ohio in their careers, and that will enhance Buckeye Community Bank's work within the greater business community," said Buckeye President and CEO Ben Norton. "Buckeye has the capability, tools and capital necessary to partner with companies that are working to grow."
Bucey Tikkanen, an accomplished commercial real estate lender, joined Buckeye as Senior Vice President, Commercial Real Estate. She brings in-depth knowledge and diverse experience developed through a range of commercial real estate projects, from construction to permanent financing, throughout Northeast Ohio. 
"I am excited to join Buckeye Community Bank. It is a community-focused institution with a meaningful commitment to our region's economy," said Bucey Tikkanen, who will enhance Buckeye's reach into Cuyahoga and Summit counties.
Cheh-Falb was named Buckeye Vice President and Commercial Lending Officer. With her deep experience in commercial lending and developing partnerships, Cheh-Falb will be an asset as Buckeye expands its presence. During her career, she has been responsible for managing a commercial portfolio that included various projects with industrial
loans, equipment financing, real estate and new construction. "Developing a strong community through a thriving business environment is very important to me, and Buckeye Community Bank's commitment to local business owners drew me to this position," said Cheh-Falb.
Makiling joined Buckeye as Vice President and Commercial Lending Officer, bringing substantial experience in commercial lending, business development and leadership to Buckeye's efforts. Throughout his career, Makiling has gained experience in the commercial and consumer banking sectors, providing him with the skills to work with clients on customized solutions for their various needs. "I am excited to join a strong community bank focused on serving the local business community. I truly appreciate Buckeye's mission and welcome the opportunity to help them extend their reach into new markets," said Makiling.