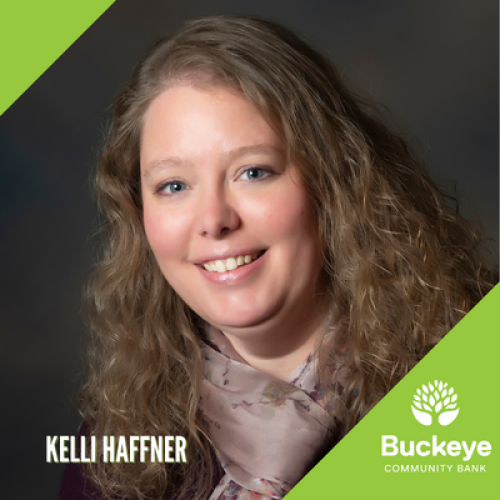 Oct 19, 2022
For Kelli Haffner, Buckeye Community Bank's Controller, a love of numbers matched with an opportunity to make an impact in her community fuels her daily work.
"Since I was a kid, I've enjoyed doing things related to numbers that most people avoid," said Haffner, who added that she is excited to work in this field. "This kind of logical, analytical thinking has always appealed to me."
In her role, Haffner is tasked with supporting the bank's leadership by overseeing all accounting-related activities, including high-level reporting, managerial accounting and finance. She assists in preparing operating budgets and performing essential duties related to general ledger recording. This linchpin role requires excellent organization, management, analytical and communication skills.
While her obsession with numbers is key to the position, Haffner, as a community banker, enjoys the "roll up your sleeves" approach to being part of an integrated internal team. To ensure Buckeye's clients succeed, she said, every Buckeye team member must have a general understanding of what's behind the numbers and work to become well-rounded in the various aspects of the bank, so they are ready to dig in and contribute.
"There's a tremendous amount of knowledge and a passion for making the community better by serving all Buckeye's clients," said Haffer, a self-proclaimed introvert who is humble about her contributions and accomplishments. "Being part of Buckeye has reinforced to me how crucial it is to work together, engage with the community, and work with our partners to make an impact here."
A graduate of Lorain County Community College and Hiram College, Haffner embraces the true spirit of community banking and is pleased to be part of a growing organization. Her expertise in community banking and expanding financial knowledge makes her a key member of Buckeye's plans. Haffner loves spending most of her time with her husband, Kris, and the couple's two teenage children, Cameron and Andon.