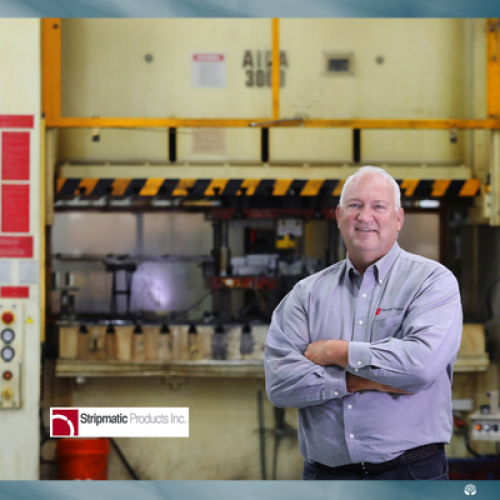 Jan 19, 2023
In an incredibly changing and challenging world, business leaders need to know that they have the resources and partners needed to fuel a strategy for growth. Bill Adler, who owns Stripmatic Products with his wife Liz, knew that when he purchased the company in the mid-1990s, he would need these elements to regrow the firm that has made auto and heavy truck parts for decades.
The Adlers' strategic plan was for Stripmatic, which was founded in 1946, to focus on what made it unique and allowed it to deliver a level of product, value and service that kept it ahead of domestic and global competition. The company's patented process uses steel to make bushings, spacers and tubular parts for the transportation industry.
While the company was enjoying success, including expanding its employee base from 12 to 40 to match growing demand, Stripmatic's leadership discovered that their bank was changing its priorities.
"We strive to do the best we can for our clients to ensure that we are making what they need faster, better and more efficiently," Adler said. "We needed to stay focused on what we do very well. This helps us meet the needs of our customers who have trusted us over the years while building our reputation and business.
"We expect the same dedication in the relationships we have with firms we work with, but we were starting to get very frustrated at the way our old bank was treating us," Adler said. "For years, we had fit their strategy well, but then they were acquired by a larger banking system, they seemed to change the way they felt about us. We were exceeding our goals and doing what we needed to grow our business, but they became more rigid and seemed not to want to understand our company."
Adler started asking trusted advisors for a recommendation of a reliable financial partner to help them continue to grow. After meeting with the Buckeye Community Bank team, Adler said the company found a bank and staff that would partner with Stripmatic in its strategic path.
"Buckeye is a great partner. We thought we might lose some of the services a larger bank could offer, but that wasn't the case at all as Buckeye matched what we needed with a higher level of service," Adler said. "Just like we need to deliver what our customer need, Buckeye does the work to understand our business, our challenges, our plans and what we need to keep moving forward."
"At Buckeye Community Bank, we constantly strive to embody our mission to be a partner to business, and we are so honored to have Bill and Liz Adler trust us," said Buckeye President and CEO Ben Norton. "A great company like Stripmatic has numerous options for its banking. Buckeye was able to demonstrate that we have the products and services to partner with businesses of all sizes. We enjoy building successful relationships based on trust, knowledge and service."
To learn more about Stripmatic, please visit www.stripmatic.com.