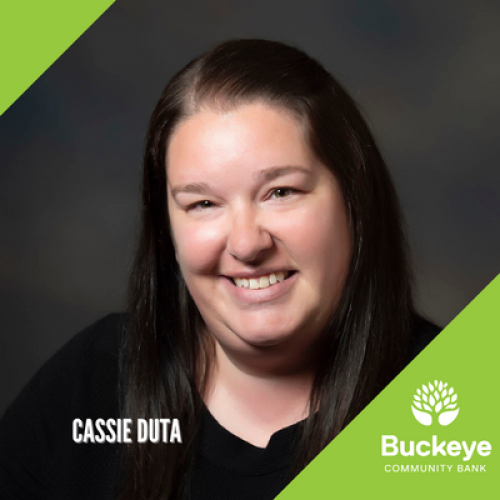 Jun 17, 2022
While the banking landscape has changed dramatically over the years, the interactions with clients and quality service delivered have remained constant for Buckeye Community Bank's Cassie Duta. Any institution can implement technology to provide convenience, according to Duta. Still, there is an advantage to developing a direct link to a client that creates the conditions to help Buckeye clients thrive.
"We really get to know our clients and our community and can be so much more responsive to a client's needs because our staff is located right here," said Duta, who serves as Buckeye's Vault Customer Service Representative. "While convenience is nice, if there is an issue or an opportunity, people want to be able to work together."
According to Duta, with its centralized location for administration and operations, Buckeye is better equipped to assist its business clients.
"It's not the same with other banks where people change all the time and when different departments might be located in another region or a different state," Duta said. "At Buckeye, we can get the client to the right person quickly rather than giving them a phone number and hope it works out.
"Over the years, you really get to know each of the clients and learn about their work, who they are and what they want to achieve. I've been here long enough that we are starting to serve our client's next generations."
After joining Buckeye 17 years ago as a part-time teller, Duta has served in her current position for nearly a decade. In the role, she monitors and validates currency levels, as well as places and receives fulfillment orders from the Federal Reserve Bank.
"Our team at Buckeye is incredibly close, and that makes us stronger for the community and the client," said Duta. "When you work with people over several years and share many professional and personal experiences, it becomes a community in itself."
Duta lives in LaGrange with her husband, Brett, and the couple's two children, Brynn and Austin. A family of avid sports fans, they are often found cheering on the kids in various athletic pursuits or attending events as a family to root for Cleveland's professional teams.