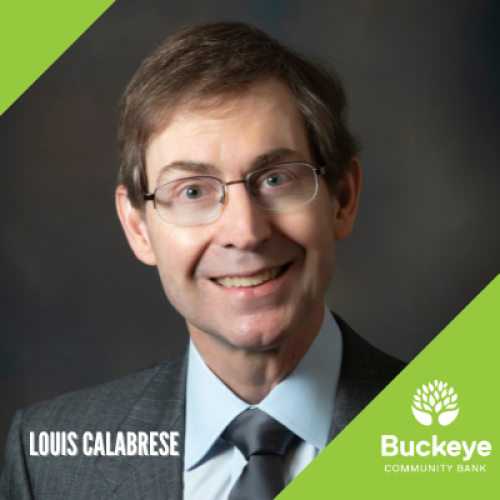 Jun 10, 2022
Buckeye Community Bank's Louis Calabrese knows how to keep pace when the challenge begins. That has proven to be a great trait as he and his assistant have seen the number of mortgage applications reach record levels during the past couple of months.
A distance runner, who has competed in some of the country's biggest races, Calabrese has faced the increased workload with his trademark smile and enthusiasm that have made him successful for more than 40 years. He left home after the fifth grade to attend a military boarding school for seven years, which has supplied a steadying and resilient force in both his life and career. The school's 'No Quit Policy' was the headmaster's prime directive and for Calabrese a life lesson.  
"The pace has been quite brisk for home loans this past quarter, and we've still been able to take good care of customers," said Calabrese, Buckeye Vice President and Chief Mortgage Lending Officer. "The advantage of Buckeye Community Bank is we can do what is best for the customer and be very responsive. At larger companies, things have changed and decisions can take longer, made by people who may not be in our area or even the state of Ohio. At Buckeye, the responsibility remains here for all the work done and the decisions made."
He values the trust that comes from playing an important role in delivering sincere, personalized service for the largest financial transaction in most people's lives.
Calabrese developed a love of running early in his professional life when he realized that sitting at a desk all day might lead to future health issues. What started as just a way to get exercise grew into a love that has seen him run in the Boston Marathon in 2010 and 2017.
Calabrese, who earned an economics degree from The University of Akron and a Master of Business Administration degree from Ashland University, also loves to play chess and enjoys sky diving. He and his wife, Bethann, reside in Amherst.