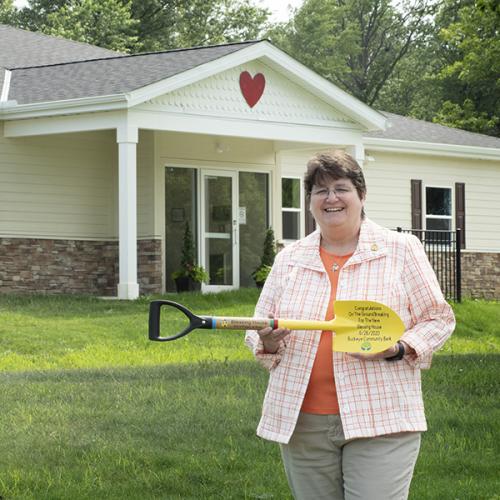 Jul 12, 2021
Childhoods with stable and caring relationships create strong adult and familial bonds. Providing children with a nurturing environment where they can interact securely with the world and feel supported is the hallmark of Blessing House.
Nearly two decades ago, Sister Mary Berigan and Donna Humphrey founded Blessing House in response to gaps they witnessed in the safety nets for local children while serving as volunteer child advocates in local courts. They envisioned an organization that would be an essential part of the network of social service and counseling providers and government agencies to help address the needs of families and children.
The new Blessing House facility opened this summer south of North Ridge Road. The nearly 17,000-square-foot building, on which they partnered with Buckeye Community Bank, provides Blessing House the opportunity to almost triple the number of children it can help. 
Today, the non-profit organization assists families who are dealing with mental, physical or legal crises by providing temporary care and space to children so that parents and caregivers can focus their attention on addressing and resolving the issues. Keeping families intact and allowing them to come back together stronger and more quickly is the goal of its team's supportive and caring efforts.
"Blessing House is a caring place where children can continue growing, learning, maybe healing and above all else feeling loved and supported," said Berigan. "We are a safety net for a family that is in crisis, allowing them to focus on what needs to be done with the knowledge their children are cared for. Today there are numerous challenges all families and caregivers face. Unfortunately, it's often no longer like the old days when you might send the kids to grandma's for a few days, as many parents might not have extended family close by or a network that can help."
"They need safe spaces where kids can be kids, playing, relaxing, exploring and feeling connected and supported," said Berigan, who said the organization is at an age where it often reconnects with children, now adults, it has served over the years. "The ability to provide caring that contributes to the child's well-being and development, and providing families an opportunity to address a crisis, is so vital and rewarding."
When the organization embarked on its community-driven planning and fundraising process for its new facility, joining Buckeye was a natural fit, Berigan said.
"Buckeye has always been supportive of us and our work. Just knowing that they are a hometown organization serving the community and, like us, focused on making it better, makes a great connection. Right from the beginning, they have been awesome to work with and so supportive," Berigan said. 
"Our partnership with Blessing House, Sister Mary Berigan and their caring team is invaluable, and we are proud of its mission," said Buckeye President and CEO Ben Norton. "We know when we are connected, the community succeeds. We are committed to investing in the future of this community because we at Buckeye Community Bank know there are tremendous opportunities here."
Learn more about Blessing House and ways to aid its efforts at blessinghouse.org.