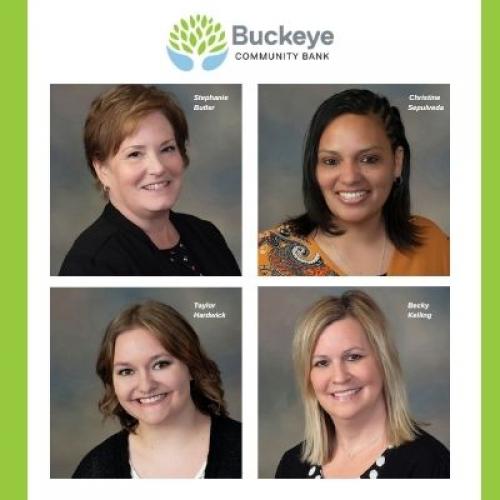 Jul 12, 2021
Buckeye Community Bank recently added four new members to its talented team, allowing it to better respond to clients and expand relationships. Stephanie Butler and Christine Sepulveda joined Buckeye in May as Commercial Services Specialists. At the same time, Taylor Hardwick is a new Loan Operation Specialist, and Becky Kelling joined as a New Accounts Representative and Teller. 
"We are pleased to welcome Stephanie, Taylor, Becky and Christine to Buckeye Community Bank," said Buckeye President and CEO Ben Norton. "One of Buckeye's distinguishing characteristics that has led to its success over the years is the dedicated, expert team that strives to make a positive impact on our clients and community members. We are excited to add talented professionals who embrace Buckeye's culture and approach."
In their new roles, Butler and Sepulveda are responsible for completing the onboarding process by compiling agreements and completing documentation related to new commercial clients and products. In addition, they serve as expert contact points, working with teammates to deliver a great banking experience and offer assistance when needed.
"I started my career in community banking, and it is great to return. It is so important that we are encouraged to get to know who we are serving, so we can work directly with clients to become trusted advisors rather than an unfamiliar voice in a far-off place," said Butler, who has deep banking experience. Butler enjoys spending time with family, gardening and is an ardent fan of Ohio collegiate and professional sports.
"What sets Buckeye apart for me is the people and the commitment to teamwork, making sure we do our best to ensure clients are successful," added Sepulveda, a Lorain native. "I've been impressed with how every person here is a go-getter who feels a direct responsibility to Buckeye's clients. While we may appear small, we offer everything a larger bank can offer with a higher degree of service." Sepulveda enjoys spending time with her grown children, cooking, walking and examining unique architecture outside of work.
As a member of the loan operations team, Hardwick assists in preparing documentation, processing renewals and extensions, and assisting with loan draws and payments. Having worked at a larger institution, she believes in the advantage of a direct connection to the community. 
"At Buckeye, the people are positive, friendly and caring about the people they work with and the clients they service," said Hardwick. "The staff at Buckeye gets to know the bank's clients, their focus and plans, and that helps deliver financial success and service. They are real people with real businesses and not just an account number." Outside Buckeye, Hardwick is a skilled photographer capturing people and sites. 
After working for Buckeye in its early days, Kelling's return to the bank was an attractive prospect. In her post, Kelling is often the first contact prospective customers have with Buckeye. 
"There is a major emphasis on teamwork and the ability to rely on each other. No matter your title or role, the entire team works together, so our clients are successful," said Kelling, a Lorain native. "There is a complete focus on connecting to the community and helping local businesses thrive – that is a rewarding part of every day." She spends time outside the bank with her husband and three children and is an avid bicyclist who enjoys exploring the outdoors.