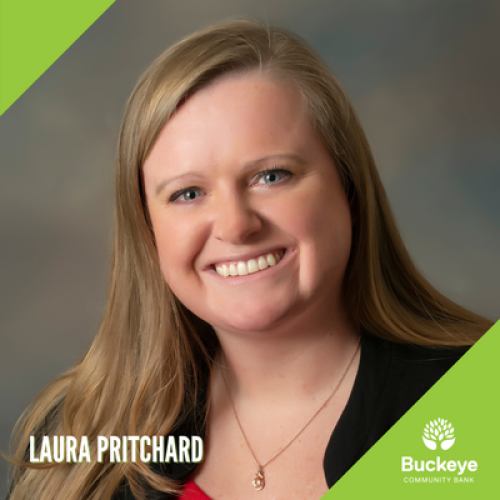 Jan 24, 2023
Having grown up in Dallas-Fort Worth, Laura Pritchard moved to Lorain more than a decade ago to be closer to family. She said that having the opportunity to connect with her family roots, get involved in the community, and create great friendships proved her decision was wise.
"It's hard to move away from what one has grown up with, but my family has always been the most important part of my life," said Pritchard, who joined Buckeye Community Bank as an Accountant in September.
"Laura is a wonderful addition to the Buckeye Community Bank team," said Buckeye President and CEO Ben Norton. "With her strong accounting background, ability to focus on the needs of internal and external clients, and passion for the community, she has proven to be a valuable member of our team."
Her role at Buckeye Community Bank entails working collaboratively with and assisting several departments. Pritchard maintains a comprehensive database of financial data, verifies all daily transactions and ensures compliance and accounting policies are met. Being part of the employee relations committee helps her connect with her coworkers more personally.
"I value the opportunity to be involved in the community, so Buckeye Community Bank's participation in many community service projects each year was an attractive factor in joining the bank," said Pritchard. "The team at Buckeye has been incredibly welcoming and friendly. I'm grateful for the opportunity to be a part of a team that supports the community."
Pritchard has gained accounting experience in the automobile, petroleum, construction and manufacturing industries. She earned her associate degree at Weatherford Community College and a bachelor's degree in business administration from Kent State University through a partnership with Lorain County Community College.
Upon returning to Lorain, Pritchard was able to move into the house her grandfather built in 1947. Exploring the greater Cleveland area, working on jigsaw puzzles, reading, playing piano and spending time with her family and three dogs are some of her favorite activities.