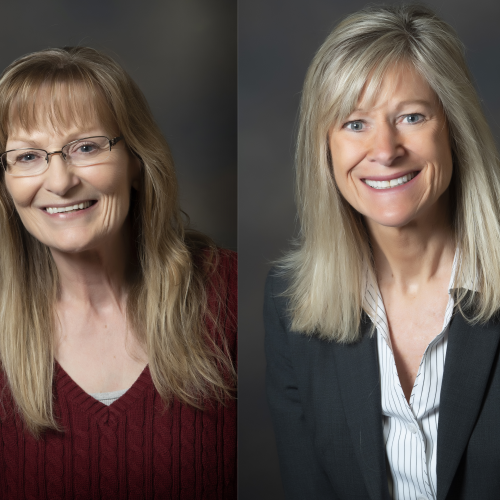 Apr 03, 2020
Being a member of the first team of employees launching a new business can be an exciting opportunity with tremendous responsibility. LuAnn Krumlauf and Rita Piatt were among the first staffers hired when Buckeye Community Bank launched who remain engaged today.
They say the opportunity to serve local clients was a major attraction for them to join the early Buckeye team. It's also the reason they continue to serve as Buckeye enters its next decade of service.
"I worked at a national bank, and I started to witness how local, loyal customers and employees never seemed as important as those in larger metropolitan areas," said Krumlauf, who serves as Buckeye Corporate Secretary today. "The opportunity to join Buckeye as one of the first employees was exciting, interesting and extremely challenging. Buckeye was, and still is, an institution that demonstrates the importance of its customers, its community and its employees every day."
Piatt too was attracted to the opportunity to impact the local community and economy. 
"The commitment to our customers has never changed," said Piatt, who serves as Buckeye's Assistant Vice President overseeing compliance and ensuring that the bank complies with the Bank Secrecy Act. "Working for a community bank is very different than working for a large bank. You're not just a body doing a job. People actually care ... and everyone knows people are here to help each other."
Both Krumlauf and Piatt have seen the bank grow while on the ground floor, going from a launch staff of 13 to almost three times that size in 20 years. The Buckeye team continues to embrace the start-up ethic while continuing to deliver results through trusted teamwork.
"One of the biggest changes is the growth in employees during the years," Krumlauf said. "It has been exciting to be part of something that started small and grew into something great."
Piatt said, "We continue to work hard and keep our commitment to serving the businesses in our community."
When the two joined Buckeye, it was during the concern over Y2K, and many worried that a computer coding issue in January 2000 would bring the world's financial systems, as well as other industrial sectors, to a screeching halt. For Krumlauf and Piatt, the milestone of Buckeye hitting $100 million in assets in 2005 was an especially memorable time.
"It has been incredible to see Buckeye and its people continue to grow," said Piatt.
"Having the ability to learn and grow while doing good for the community has been rewarding," Krumlauf added.