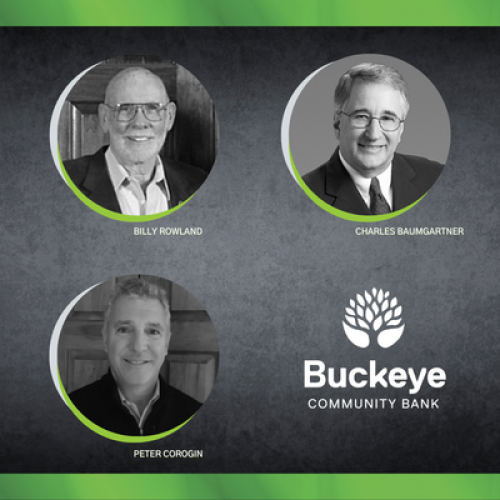 Oct 20, 2022
from the Buckeye Beacon newsletter (Vol. 4, Issue 4)
In the late 1990s, there was a growing sense that banks that had served Lorain County for decades had suddenly started moving away from serving the businesses vital to the local economy. At the time, several local institutions had disappeared after acquisitions by larger banks or had transferred decision making to other areas of the country.
Local businessman Billy Rowland recognized the real need and remarkable opportunity to serve the small and mid- sized businesses of Lorain County with an independent, community-minded bank. Rowland gathered a group of community leaders to work on launching Buckeye Community Bank in October 1999. Peter Corogin and Charles Baumgartner share the distinction of being founding board members who actively sit on Buckeye's Board of Directors today.
"We all shared the view that the marketplace was contracting and changing drastically at the time," said Baumgartner, who is a partner with Brouse McDowell but started his career in banking before attending law school. "There was a need to build on a foundation of working with local businesses to keep the community strong and working."
In creating Buckeye, the founding group placed a premium on building an institution that was committed to making decisions locally. Responsive leaders and personalized service would mean that good people, ideas and businesses did not become casualties of a large banking system that would tie them up in red tape, Corogin said. 
"It was an honor and a great experience to join these fantastic leaders in the beginning as we worked on launching Buckeye," said Corogin, CEO of Lake Erie Electric. "As a community bank, we knew our success was tied to the success of the area and we were committed to Lorain County. It is still  true today that growth in the community benefits everyone."
While the launch of Buckeye came during the time of Y2K concerns, it was the challenges of the recent economic downturn mixed with vastly increased compliance requirements that would  challenge Buckeye's steady growth and survival.
"Bruce Stevens has been a tremendous fit for the bank. He knew the business, has a high level of integrity and displayed the kind of steady, unflinching leadership that was needed during very challenging times," Corogin said of Buckeye's CEO.
Baumgartner echoed the praise stating, "While I think we all hoped we would be a little bigger by now, if it wasn't for Bruce Stevens' making it through the downturn with steadfast leadership, I'm not sure where we would be today."
As Buckeye continues its sensible growth pace, both Baumgartner and Corogin said they are pleased that the bank's leadership and board are actively engaged in  meeting the new challenges of appealing to a new generation of business leaders and preparing the team to transition into bank leadership roles during the coming years.
"I am most proud that we are still here serving the community today," Baumgartner said. "Several institutions, when they heard the first sounds of guns on the horizon during the economic downturn, started to run away from local clients who were facing challenges. We will never condone poor practices or worse, but if you are trying and have your business on the right path, then we will listen and help. We are a sterling example of what can be done when you are focused and have demonstrated leadership."
"We treat customers extremely well, provide great service and products, and the investors are seeing blue skies ahead which is something to be proud of today," Corogin said. "We work hard to be part of the community and help impact local business. There is still a great need for Buckeye."