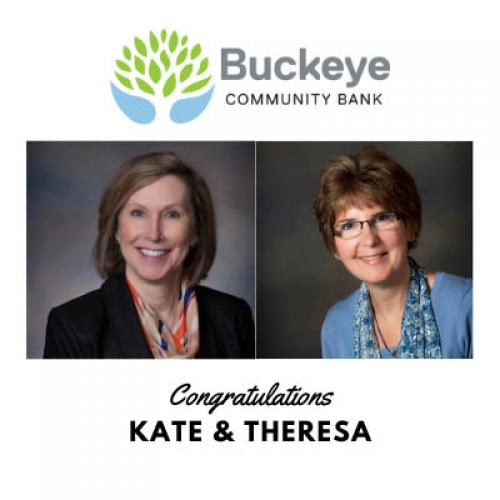 Jul 12, 2021
Buckeye Community Bank congratulated Kate Kerr and Theresa Van Dyke on their retirements this spring after decades in the banking industry.
"Throughout their careers at Buckeye Community Bank, Theresa Van Dyke and Kate Kerr have demonstrated a commitment to their colleagues, as well as Buckeye Community Bank's clients and shareholders," said Buckeye President and CEO Ben Norton. "Kate's dedication and ability to build great relationships have contributed to Buckeye's success, and Theresa's experience and teamwork have been invaluable. We all wish them both much happiness in retirement."
Kerr joined Buckeye in 2018 as Vice President and Commercial Loan Officer. In her role, Kerr focused on helping local businesses prosper. 
"Buckeye is special in that it values not only its clients but also its employees," said Kerr. "Buckeye engages with the business community effectively. I've been fortunate to finish my 40-year career at a place where my values were in complete alignment."
Van Dyke, who joined Buckeye as an Accounting Specialist in 2003, was responsible for assisting Buckeye's financial and operations units through various accounting, transaction and control functions. 
"Buckeye serves the community, and the staff has created a strong sense of community within. We could always count on one another to give our best. I will miss interacting with different people and celebrating achievements," Van Dyke said.