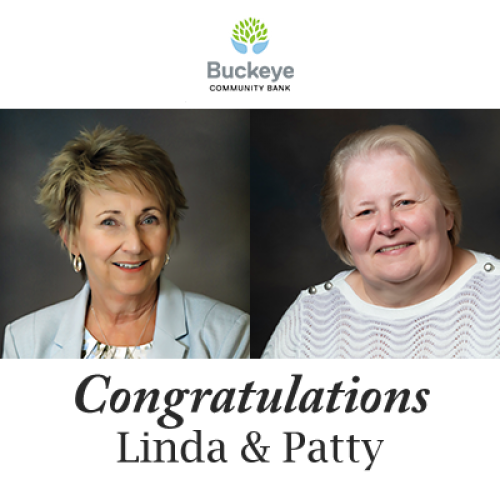 Oct 13, 2020
Buckeye Community Bank bid a fond farewell to Linda O'Malley, Chief Lending Officer, and Patty Cole, Operational Specialist, who recently retired after extensive local banking careers. Both joined Buckeye in 2012, bringing years of expertise to make Buckeye more competitive, while adding to its highly personalized, professional approach. 
"Linda O'Malley and Patty Cole brought the kind of talent, energy and leadership that was a great benefit to the Buckeye Community Bank teammates, clients and shareholders," Buckeye President Ben Norton said. "We are proud of their contributions to Buckeye's growth and success. Linda's and Patty's extensive professional backgrounds were of tremendous benefit in furthering our mission of helping local businesses grow and expand."
O'Malley, who led Buckeye's lending strategy and portfolio while managing a talented loan team, was a trusted leadership team member. She said her post had been most rewarding for the interactions and opportunities to learn every day. 
"I often told people that I had the best job because every day was different. I was able to learn about diverse industries and different jobs by working with some really great people and clients, and that keeps you fresh and sharp," O'Malley said. "Buckeye encouraged us to take the time necessary to learn about our customers, which ensured that we delivered the best service possible. That focus sets Buckeye apart, and I know it will continue for a long time to come."
Cole brought more than three decades of banking experience to her position at Buckeye. In her role, Cole was responsible for monitoring various transactions to rapidly identify any errors or fraud, as well as adding expertise to improve operations while assisting clients with products and features. During her career, the technology used to help clients succeed grew exponentially.
"Buckeye exists to serve the needs of its clients and improve the community," Cole said. "I love troubleshooting and navigating complexities, and this position allowed me to do that every day. In all that we do, we aimed to be pleased but not satisfied because you can always do more."
Both Cole and O'Malley said they would greatly miss the daily interactions with Buckeye clients and colleagues, but they look forward to watching Buckeye grow and advance.