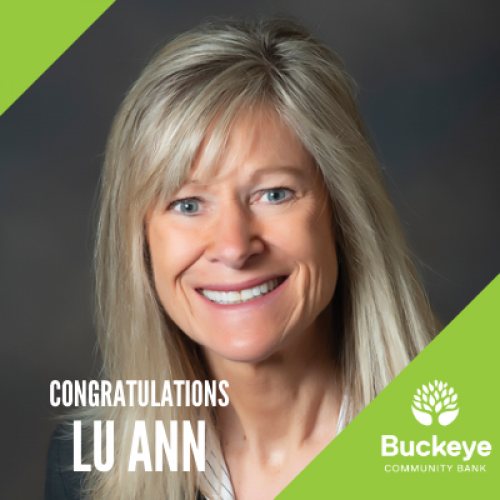 Oct 08, 2021
When she retired in September, Lu Ann Krumlauf, Buckeye Community Bank's Corporate Secretary and one of its first employees, received best wishes from her colleagues. Krumlauf has been an integral part of Buckeye since the beginning.
She first learned of Buckeye's founding from George Mayer, whom she worked with when he led a bank in Erie County. The two stayed in touch after he retired and before he was recruited as Buckeye's leader.
"When we spoke, he was so enthusiastic about the work taking place to create Buckeye Community Bank and the dynamic group founding the community bank," said Krumlauf, who joined Buckeye at its launch in 1999 after a banking career in Sandusky. "It has been a tremendous opportunity to learn about the banking industry, be part of a team of tremendous individuals and constantly be challenged."
"Seeing Buckeye's growth and knowing that you were part of it is very rewarding," Krumlauf said, adding she plans to stay active with her husband, Pat, and their children and grandchildren. In her role, Krumlauf supported Buckeye's Board of Directors and all of Buckeye's presidents and chief executive officers, including its current leader Ben Norton.
"Lu Ann has led by example with her loyalty, experience, and commitment to Buckeye Community Bank. I sincerely appreciate her contributions over the years and all she has done for the executive team and me," said Buckeye President and CEO Ben Norton. "We will miss Lu Ann's enthusiasm, knowledge, and institutional insights greatly."