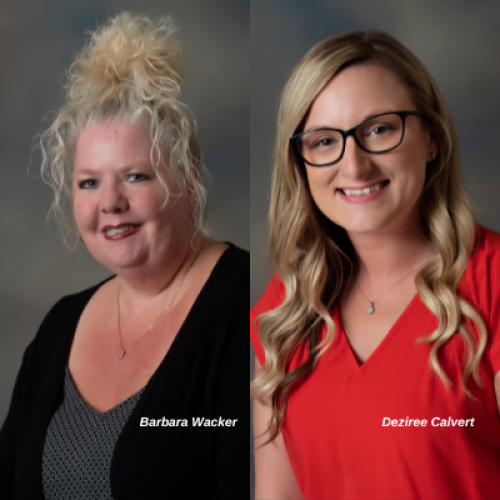 Jul 18, 2022
Two energetic professionals recently joined Buckeye Community Bank to strengthen our position as a bank known for helping local businesses thrive. Deziree Calvert joined the bank as a Customer Service Representative and Barbara Wacker as an Operations Specialist.
"We are excited to welcome Dez and Barb, and their strengths to our Buckeye Community Bank team," Buckeye President and CEO Ben Norton said. "Buckeye continues to grow, finding new ways to serve business leaders across our region. Our approach to relationship-based solutions is in demand, and our team has extensive experience helping clients achieve their unique objectives."
Calvert joins the bank's front line in her capacity as a Customer Service Representative at Buckeye. In her position, she not only serves as the first point of contact but also assists with account maintenance, preparing documents and providing various types of support for accounts, products and services.
"I have enjoyed being a part of a team that works well together to help clients," said Calvert, who has experience in the retail and service sectors. "In this role, I have the opportunity to use many skills, from listening to solving problems to building relationships. Everyone here is focused on teamwork to serve, and we can rely on one another."
Calvert, a Lorain native, and her husband, Dave, have two children. She enjoys traveling, watching movies and spending time with friends and family.
After more than a decade in banking, Wacker joins us as part of a skilled team, streamlining processes and finding efficiency to improve the client experience. She routinely performs research, analysis and verification of client accounts, transaction processing and reporting.
"I am so impressed with the way Buckeye is dedicated to its people and clients. Almost every company claims to care, but Buckeye proves it through its actions," said Wacker. "The leadership team believes in making everyone successful, which shows in our work. It's great to see Buckeye's connection to the community and how we have the opportunity to engage and contribute."
Wacker lives in Elyria with her partner, Karrie, and their two dogs. She enjoys gardening and is a cruise enthusiast.