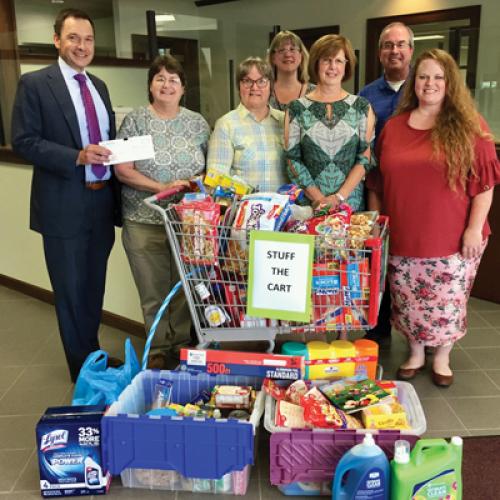 Dec 10, 2019
During the third quarter, the Buckeye Community Bank staff held a collection drive to gather household and food supplies to support the work being done by the Blessing House in Lorain.
The Buckeye team and clients donated more the 130 useful items and $175 to support the organization, which provides a safety net and safe shelter for families in times of crisis. During the years, Buckeye has supported Blessing House's vital work to strengthen the community and ensure that children have safe, secure futures. 
Sister Mary Berigan and Donna Humphrey met with the Buckeye team to express their appreciation for the donations. 
Each quarter, Buckeye's Employee Relations Committee identifies organizations where staff can make an impact by getting involved and address the direct needs of the community to help make it a better place to work and live.
Pictured: Sister Mary Berigan (second from left) and Donna Humphrey (third from left), from Blessing House, meet with Buckeye President Ben Norton and staff members Patricia Pubal, Sarah Smith, Dave Janowicz and Kelly Sawyer recently.