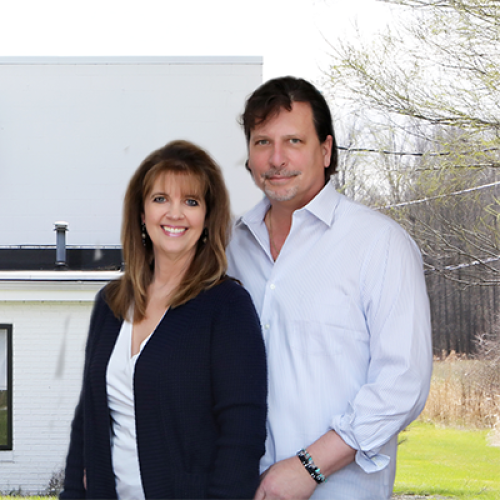 Apr 20, 2022
Every business owner knows that they will occasionally face adversity. It takes a special leader equipped with an unfailing determination to overcome numerous obstacles en route to building a thriving business.
That determination, mixed with optimism and pluck, allowed Dave and Dawn Skodny to build Air Filter Factory into a successful company while facing both professional and personal tests. The couple's company, founded in 2009, has been named among the Inc. 5000 list of America's fastest-growing private companies several times.
"You need to continue to work hard and push forward no matter what you are dealt. It is a learning lesson when you fail or struggle," said Dave. 
The company, based in Wakeman, distributes air filters for commercial and residential use. Air Filter Factory has leveraged changing technology and its commitment to selling American-made products among its many advantages.
"We are both driven people, and we weren't going to let obstacles get in our way. When you stop learning and growing, you're in trouble," Dawn added in a recent podcast.
A year before the company's founding, Dave experienced a professional transition as he had sold his local fishing and bait shop. Dawn would later work to save her own company from questionable moves made by a partner. The couple was also raising a family.
Dave spent time learning more about online sales, audience targeting and the use of data to attract buyers. A side project during that time laid the path for the launch of Air Filter Factory.
After quickly outgrowing a bedroom office, the Skodnys' company moved into their garage, then several commercial spaces as it grew year over year. According to Dave, his working relationship with Dawn and the use of their diverse strengths in unison is considered the secret sauce to their success.
Today, Air Filter Factory focuses on a multichannel approach, promoting and selling products directly, through various platforms, and in partnership with larger retailers while delivering a consistent, coordinated customer experience. The couple credits the talented team that shares in the company's achievements and growth.
"One of our goals has always been creating great paying jobs, sharing the rewards when we all succeed and creating a culture where people grow, succeed and have fun. Our staff is part of our family," said Dave, whose team includes 14 employees today. "We have a lot of things in the works and are making a big push for growth this year."
The Skodnys' first interaction with Buckeye Community Bank was not a match, but they were impressed with staff advice and kindness. Several years later, the two groups were able to work together.
"The entire Buckeye team makes you feel like you're their only client. We have been impressed with Buckeye, David Janowicz and the whole staff. We have appreciated their advice and help to ensure we were on the right path for the future," said Dave.
"Dave and Dawn Skodny have worked extremely hard to position their company and team for success. We were impressed by their diligence and commitment to ensuring the Air Filter Factory had a solid growth plan," said Buckeye Community Bank President and CEO Ben Norton. "At Buckeye Community Bank, we have committed ourselves to sharing the lessons we've learned over the years and being the partner that helps business owners achieve their goals."
Check out Air Filter Factory at airfilterllc.com.