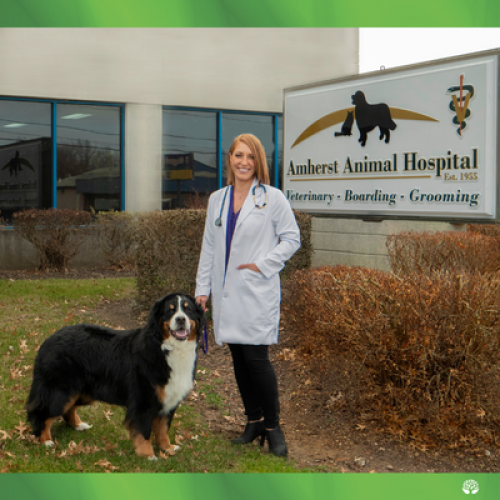 Jan 24, 2023
A passion for what you do isn't a requirement for success, but it certainly helps. Dr. Kristin Yacobozzi of Amherst Animal Hospital takes great pride in developing lasting relationships with her patients and their families.
"I think my favorite part is becoming a trusted part of the family pet's life and welcoming their family as a part of ours," said Dr. Yacobozzi, who leads a bustling team of 22 animal-care professionals. "It is an honor to have served generations of families and be a part of their pets' lives."
In addition to traditional medical services, Amherst Animal Hospital offers boarding, doggy daycare and grooming services. The hours Dr. Yacobozzi spends working to help area pets may be long, but they often fly by. Her work has had many lasting effects, including meeting her husband, Matthew, whose dog was being treated.
Growing up around animals, she had not considered a veterinary medicine career until a high school job exposed her to the possibilities. She was fortunate to find a culture of support and mentoring at the clinic in her hometown. This experience and encouragement led her to study chemistry and biology at the University of Findlay and pursue her doctorate at The Ohio State University College of Veterinary Medicine. As she approached graduation, Dr. Yacobozzi sought a practice that would allow her to grow professionally and personally. She found that opportunity with Dr. Mark Gigliotti, whose father (Dr. Jerry Gigliotti) and uncle (Dr. Tom Gigliotti) started the practice in the 1955.
"It was the perfect situation for me. Dr. Gigliotti invested his time and provided me with a growing understanding of care and serving as a principled role model," said Dr. Yacobozzi, who took over the practice when Dr. Gigliotti retired last year. "The Gigliotti family's dedication to the local community has made a lasting impact."
The culture of Amherst Animal Hospital helps to increase the team's knowledge, address challenging situations and promote effective communication and teamwork with owners of pets.
"We have an amazing staff," said Dr. Yacobozzi. "We work together to share our collective knowledge and passion for those we care for to ensure our approach and care are consistent. Much of our job is serving as a partner, providing pet owners with the information they need in a world full of information. We want to ensure everyone is on the same page, so education becomes vital in helping their specific pets' behavior and health."
Even though her days are described as demanding, interesting, exciting and exhausting, she became frustrated with her old bank and the unnecessary work and concern it caused when it took them months and multiple contacts to address a fraudulent check. In Buckeye Community Bank, she found a local bank that would be invested in her success.
"We are very pleased with Buckeye and their team that cares about local businesses. I prefer to work with a local bank, and our various interactions have been pleasant. If there is a question or an opportunity, the Buckeye staff will take the time to work with you directly," said Dr. Yacobozzi.
"Dr. Yacobozzi and her talented team at Amherst Animal Hospital provide the type of personalized care that provides peace of mind when caring for a loved one and works to enrich our bonds with our pet," said Buckeye President and CEO Ben Norton. "Much like Buckeye Community Bank, they are incredibly accomplished in being responsive to a variety of situations and finding the right ways to partner with those they serve in innovative ways that make an impact."
Learn more about Amherst Animal Hospital at amherstanimal.com.