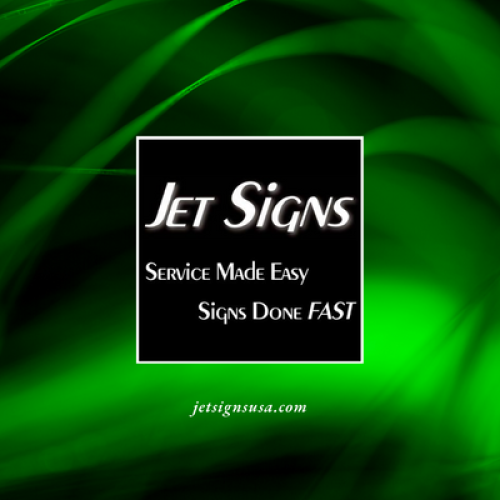 Jan 11, 2023
Delivering the type of service and quality that moves a customer to refer others to you is the gold standard of success for Jon Koethe, owner of Avon-based Jet Signs. Every day, whether attending a local event or visiting a local institution, there's a good chance you have encountered a Jet Signs-produced item.
"I take great pride in delivering not only great products and service, but being the type of partner that customers come to depend on to make sure they have one less thing to worry about," Koethe said. "It means a lot that those we work with receive the type of satisfaction that causes them to refer us to a colleague or a friend."
The Lorain County business, launched in Sheffield before moving to Avon's expanded site, is approaching its second decade in business with much optimism. The company offers a host of digital imaging, vehicle graphics, and retail, event, and real estate signage options.  
"Like Jet Signs, Buckeye Community Bank is successful by caring about the clients we serve and being a partner in their success," said Buckeye President & CEO Ben Norton. "Those we work with are not a number, but a colleague, like Jet Signs, working to make our community thrive."
What Do You Do & Why Do You Do It?
After a career in the traditional printing industry, Koethe launched Jet Signs in 2005 with a focus on providing excellent products with a faster delivery time than many competitors. His years of experience also provides customers with insights to help them develop precisely what they need. The company started with short-term event and retail signage and quickly expanded its offerings to larger products such as vehicle lettering, window, door and commercial signage. While high-quality products are essential, delivering outstanding service is paramount to Koethe.
"Since the first day, we wanted to be a company that did great work and was easy to work with," Koethe said. "Everyone we deal with, in various businesses large and small, is doing more and more with fewer resources. We focused on being different by quickly delivering the right product to take some worry out of their day. When you build trust, customers will respond and the results will come."
How Do You Define Success?
Since launching Jet Signs, Koethe said he has always had a goal to be a great "small business." The focus on staying small allows Jet Signs to continue to hone its expertise and deliver expert service.
"We have consistently grown year-over-year since we opened, which I think is a good definition of success," said Koethe. "I always wanted to be a great small business that provides the kind of service that fits our customers' needs and keeps them coming back. When you grow too large, you can lose the direct connection to those you serve and get distracted from what your business does best."
Why Do You Work with Buckeye Community Bank?
Jet Signs joined Buckeye Community Bank when the company launched 17 years ago. Koethe said it was a relationship developed with one of Buckeye's dedicated community bankers that steered him to the institution. Today, he remains impressed with the level of service Buckeye delivers.
"I have been very happy with the great relationship we have built," Koethe said. "If there is ever a need or an issue, it's nice to know that Buckeye is there to help us figure it out. I have appreciated our connection over the years and have referred many people looking for a great bank to Buckeye."
To learn more about Jet Signs, visit jetsignsusa.com.