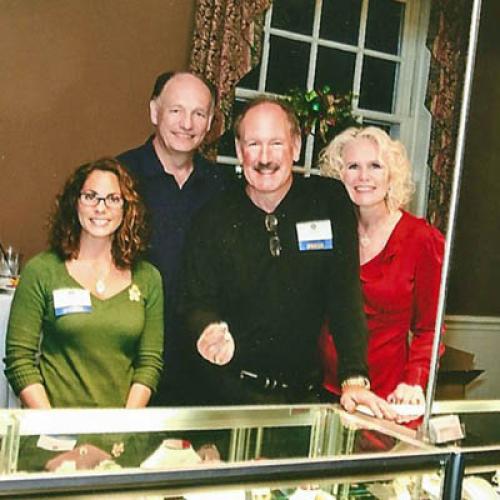 Jun 17, 2020
Family-owned since 1987, Levit Jewelers is a full-service custom jewelry design and repair center in Lorain. Levit Jewelers' staff of Certified Gemologists, Estate Appraisals & Insurance Replacement Specialists pride themselves on quality and extensive knowledge of jewelry and gemstones.
Rob Levit, who serves as Levit Jewelers' President, Bench Jeweler, Goldsmith, and Designer, says offerings range from custom jewelry design to repair services for customers from Lorain County, as well as many from around the world. One of Levit's proudest designs was a U.S. flag lapel pin that former President George W. Bush wore during his eight years in office.
"We're so proud to be able to be a part of that positive experience of people giving unique jewelry that cannot be found anywhere else," said Levit. "Doing something good and unique that people can remember for the rest of their lives is powerful."
Unique design mixed with engaging service has Levit witnessing a new generation of clients. 
"The children of our original customers are now returning from college and are coming back for unique pieces for the next generation."
A Buckeye Community Bank customer since 2000, Levit remembers, "in the early days, when we were getting started, Buckeye was very supportive and helped us build our business.  Buckeye has always been a cheerleader for us, always encouraging us to move forward. We actually talk to people who encourage us to do well. When we have an idea and need the resources, we have found that Buckeye is there to help us – first, last, and always. That's why we bank with Buckeye."
"Buckeye prides itself as a partner in the growth of locally owned businesses that build and sustain our communities," said Buckeye President Ben Norton. "Levit's is a distinct, one-of-a-kind jewel that provides beauty to our community and economy."
After working with another bank for nearly three decades, Levit found that relationships did not matter when he approached the institution for business expansion capital. Despite the length of their relationship, Levit said he perceived a run-around for more than six months only to be asked for more information. 
"I went to Buckeye Community Bank, told them what I needed, and within seven days, Buckeye had me approved. Buckeye looks at facts beyond just the numbers – they invest in their customers' futures – and that's why we went with Buckeye. Buckeye knows that in my business, I'm there for the customer and I deliver. They do the same thing."
"When people come to us with an idea for a custom jewelry piece, then they say they want to look around a bit – it's the best thing for our business. I always say – please do, and when you don't find what you want, please come back here. Buckeye is the same way – there are other banks you can go investigate. When you don't find what you want there, go ask Buckeye."
Visit Levit Jewelers at www.levitjewelers.com.