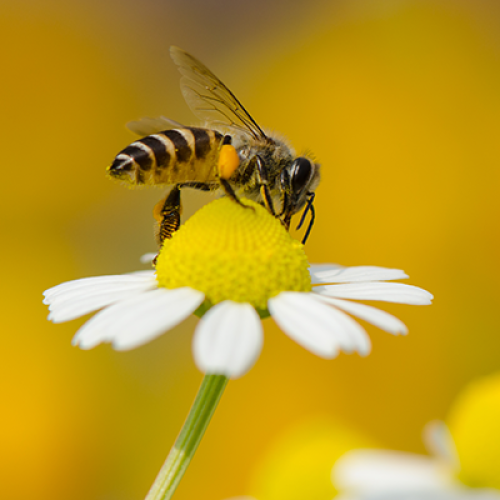 May 20, 2022
For Sheila St Clair, the way bees work harmoniously toward a common pursuit illustrates what she and her husband, Denzil, aim to do when serving their community and customers. For more than 25 years, the St. Clair family, which includes five generations working together, has operated Queen Right Colonies, based in Spencer.
While the retail business opened in 1995, St. Clair said her family's beekeeping roots date back more than 50 years when her grandfather ignited a family passion as a skilled beekeeper and educator.
While world events have paused on some of Queen Right Colonies' activities during the past couple years, the need for beekeeping guidance, equipment, and supplies remains. Sheila recently spent time sharing more about her company as part of Buckeye Community Bank "Buckeye Believes in Small Business" feature.
What Do You Do & Why Do You Do It?
Queen Right Colonies is a family-owned business with five generations working to help people keep bees healthy and thriving.
"We started our business years ago to support our interest and share our knowledge of beekeeping," St. Clair said. "We are fortunate to have our family involved with the business. Each member has their area of expertise, pulling us in the same direction."
Beekeeping has grown in popularity in recent years, with more people taking an interest in the hobby and learning about the importance bees play in the world. According to the U.S. Department of Agriculture, bees pollinate approximately three quarters of all the fruits, nuts and vegetables grown.
"Bees are intelligent creatures that work together in harmony with one another," St. Clair said.  
Today, Queen Right Colonies has grown to have the largest showroom and offering of packaged bees in Ohio, a feat St. Clair says would not have happened without the help and support of customers and friends.
What is Your Favorite Part of Your Business?
Connecting with people throughout the United States and Canada with a shared interest is one of the primary rewards of operating Queen Right Colonies, St. Clair said.
"I love the chance to interact with others and helping to further their love of bees by sharing what we've learned over the years," said St. Clair. "We have an opportunity to get involved and build lasting relationships. In our field, you are connected to the people you serve and that is satisfying."
How Do You Define Success?
St. Clair says she stays grounded by reflecting on the family's path from very humble beginnings to creating a successful life and business "through God's grace."
"We have been lucky to have an extremely strong passion and a great family that gets to work together. I believe in measuring success in this life by how you love your neighbors and others," said St. Clair. "We treat every customer as if they were our only one, spending time listening and helping them. We want that to be a lasting value of the business and make sure we all exemplify that purpose."
Why Do You Work with Buckeye Community Bank?
Queen Right Colonies joined Buckeye Community Bank five years ago.
"Buckeye gets how to deliver excellent customer service," St. Clair said. "While Buckeye is not the closest bank for us, their Courier Service is fantastic in coming to us for anything we need. Buckeye always treats us like we are their only customer – we really appreciate that level of service."
Check out Queen Right Colonies at www.queenrightcolonies.com.