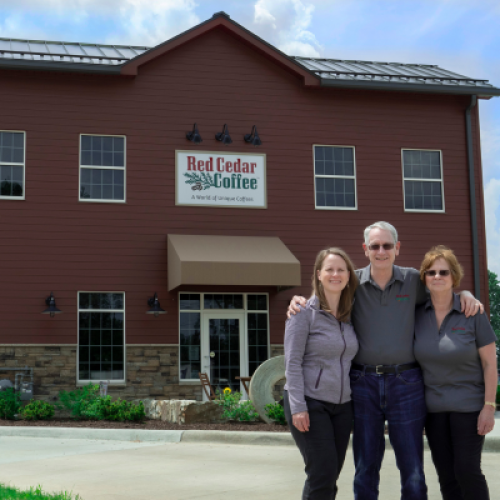 Aug 01, 2023
Larry Denton of Red Cedar Coffee Co. didn't have the typical Midwestern upbringing of most kids born in Michigan. That unique childhood fuels his pursuit of the perfect cup of coffee, built from a love of rich soil, culture and aroma engrained in beans from around the globe.
As a young boy, Denton lived in South and Central America as his father's job at Ford Motor Company took him to Brazil, Mexico and Venezuela. It was from this experience that Denton gained a deep respect and passion for the people, land and culture of his adopted homelands.
"Most kids grow up around corn fields, but we grew up around coffee farms," Denton said. 
After returning to the United States, Denton attended Michigan State University to study hotel and restaurant management. At that time, he met his wife, Julie, who co-founded Red Cedar Coffee with him. In his long career in food service and retail supply, Denton handled sales to major convenience store clients for two large multinational corporations. 
As a result of his work with a local coffee company later in his career, he gained knowledge in the art of roasting coffee.
In 2005, the couple opened Red Cedar Coffee in Berea and worked hard to develop a wholesale business. As a result of his expertise and meticulous sourcing of beans, he was able to assist clients to find the right blend for enhancing food and menu options. Although a retail arm wasn't in their immediate plans, the company began to attract interest when the alluring scent of freshly roasted coffee permeated the air, attracting visitors to the site's back door. Within a few years of launching, Red Cedar Coffee began offering small retail roasting options.
Red Cedar sources coffee from 20 countries today and continues to expand its partnerships. The team, which now includes the next generation of ownership with their daughter, Anne, cherishes the relationships they have built with their partners. Connecting with those they work with is crucial to their success. Focusing on direct trade and organic growing helps Denton develop economic partnerships that protect farmlands in other countries.
"It is very personal to us. We are hyper-focused on quality and building relationships that help the farmers succeed," Denton said. "Their sustainability translates to our viability and progress."
The family met with Buckeye Community Bank leaders in 2021 to discuss plans for a larger roasting facility and retail coffee shop. Before approaching Buckeye Community Bank, the Red Cedar Team discussed their plans with larger institutions. 
"We started working with national banks and realized we were too small for them to care," Denton said. "Buckeye Community Bank was recommended to us, and we were impressed from the very first meeting. They understand and took an interest in our specific business. They asked questions and wanted to get to know us and our plans. The entire organization is incredibly helpful, and we worked together to get where we are today."
In the next five years, Red Cedar hopes to double its size. It serves clients in 44 states today.
"Larry and Julie Denton, and now Anne, work hard to infuse a bit of the tradition, passion and legacy of their partners in every product," said Buckeye President and CEO Ben Norton. "Coffee is a universal beverage, but the Dentons focus on creating a kinship with those that bring it to life and allow us to enjoy each cup. We at Buckeye Community Bank are proud to support them as they grow the Red Cedar Coffee reach."
Learn more about Red Cedar Coffee at redcedarcoffee.com.