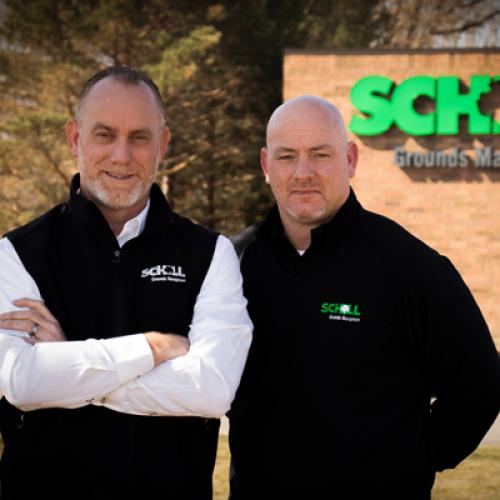 Apr 27, 2020
Many spend countless hours searching for the secret ingredient that sets one company ahead of its competition. For Jerry Schill, co-owner of Schill Grounds Management, it is the simple, pragmatic commitment to focusing on what the company does well and empowering his team that sets the company apart and on a long-term growth track.
"For our company, it was essential to work through a process focused on growth. This meant taking a step back to see the overall picture, evaluate everything and make solid decisions that helped us create our scalable model," said Schill, who launched the company with his brother, Jim, in 1993. "We worked on building real relationships and on ways to deliver extraordinary experiences for both our customers and employees."
"There are a lot of firms out there, chasing all kinds of jobs. For us to thrive, Jim and I knew it was important to focus on the critical few things that could grow the company and make it great."
For Schill, keeping focused reminds him of the Chinese proverb, "a man who chases two rabbits catches none." The company, Schill said, has adopted what it calls its CARE Program. The CARE philosophy is a promise of Consistency, Accessibility, Reliability and Expertise that guides everything the company does.
The roots of Schill Grounds Management started when the Schill brothers were both in college and would do summer landscaping work to earn money. After college, they continued the work part-time as they developed their management skills in business-related positions. Soon Jerry and Jim realized they could combine their love for the outdoors and their passion for business to create their own professional firm.
Today, thanks to the planning and execution started years ago, Schill Grounds Management focuses entirely on providing a holistic approach to landscape maintenance, landscape design and build, and snow and ice management. The company, which started from the humble beginnings of using a Ford Escort to carry equipment, has grown to three locations in North Ridgeville, Sandusky and Middleburg Heights, with nearly 200 employees. Plans are in place for two additional locations in the near future.
The CARE Program, mixed with a dedication to continuous improvement and a commitment to employees, has allowed the company to offer year-round service, as well as retain and build a talented, experienced team. Schill Grounds Management joined Buckeye Community Bank in 2005 after working with Sandi Dubell for several years.
"We have been so fortunate to have built a relationship and trust with Buckeye Community Bank. We can't say enough about their team that has demonstrated a real connection to us both personally and professionally," Schill said. "We did not realize how important it was to have a first-class bank like Buckeye to achieving success. Our partnership with Buckeye has been absolutely critical and working with Susan (Grachanian), Ben (Norton), Sandi and the whole staff has helped us overcome barriers, find solutions and make everything a lot easier."
"We are pleased to be a trusted partner of Jerry and Jim Schill. They consistently prove that great results come from diligent work and a strategic
plan focused on leveraging their company's strengths," said Buckeye President Ben P. Norton. "Like Buckeye, Jerry and Jim pride themselves on a mission of expertly serving their clients, engaging their employees and supporting the community."
Learn more at Schill Grounds Management at schilllandscaping.com.